What Is Butterscotch Pie?
Butterscotch pie is a luxurious dessert made with a cooked butterscotch custard placed into flaky, buttery pastry crust and served topped with toasted meringue or fresh whipped cream. The butterscotch filling tastes like rich, smooth, caramel-y amazingness with the brown sugar adding depth and boldness. Not being a fan of toasted meringue, I chose to top my pie with fresh whipped cream... with a kick. I added a touch of Bailey's Irish Cream to elevate the whole pie-eating experience to areas never before explored.
What Do You Need To Make This Pie?
Pie Crust: You only need a bottom crust for butterscotch pie, so I turned to a classic and used a half recipe of Julia Child's pie crust recipe (which will never fail you). You can use your favorite standard crust recipe, or you can even use a refrigerated rolled crust.
Butter and Sugar: I use unsalted butter and light brown sugar, firmly packed when measured.
Flour: Some recipes for butterscotch pie use cornstarch as the thickener, but I've used flour here instead.
Eggs and Milk: I used large eggs and 2% milk. You can use any milk that you like, even non-dairy options. The higher the fat content of the milk, the richer the pie filling will be.
Vanilla Extract and a Pinch of Salt: Two things that are always welcome in any dessert on my plate.
Heavy Cream, Powdered Sugar, and Bailey's Irish Cream: Just three ingredients to create the incredible whipped cream topping for this pie. It only takes a couple of tablespoons of Bailey's to punch the flavor - that's all you need!
Dry beans, rice, or pie weights for par-baking the crust.
Does The Pie Crust Need To Be Baked First?
Yes, the filling will only need to bake for a short time (par baking), so you will need the crust to be completely baked and cooled before you add the butterscotch filling. Make sure to weigh down your crust using dried beans, rice, or pie weights to keep the crust from bubbling and shrinking away from the pie dish when baking.
Does Butterscotch Pie Need To Be Refrigerated?
Yes, because of the custard filling you will need to
store any leftovers in the refrigerator. The fresh whipped cream will start to wilt and/or separate after a day or two, so if you want to make sure this exceptional pie is eaten at its peak, invite a few friends over and polish it off!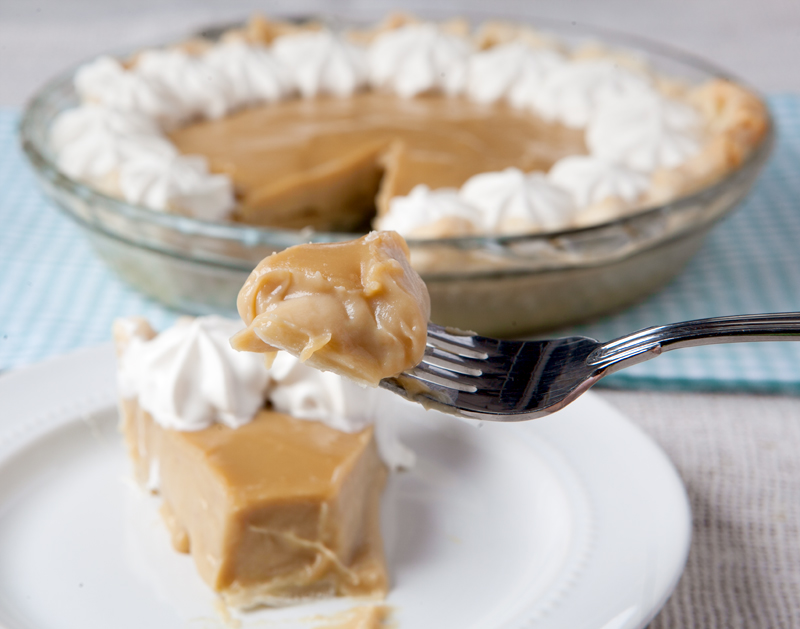 Whoa, Why Does This Take So Long To Make?
A pie like this made completely from scratch is a bit of a labor of love, so you will be in the kitchen for a while, especially when making the custard as it can take 45 minutes or even a touch longer to thicken up. I recommend using the time to catch up on your favorite show - that's what I do! You can also make the pie crust at a different time to break up the long stretch of baking. Even though it's a longer process, this is not a difficult pie, and the results are so worth it!
Print
Butterscotch Pie with Bailey's Irish Whipped Cream
---
Author:

Total Time:

90 minutes

Yield:

8

servings

1

x
Description
A thick and luxurious homemade butterscotch custard nestled in a flaky, buttery pie crust and topped with fresh whipped cream flavored with a touch of Bailey's Irish Cream.
---
For the crust:
Half recipe of Julia's Pate Brisee, following the instructions for partially-baked shell, cooled
For the pie filling:

6

TBS cold unsalted butter

1 ½ cups

light brown sugar, firmly packed

6

TBS all-purpose flour

3 cups

whole milk

5

large egg yolks

1 tsp

pure vanilla extract

1

pinch salt
For whipped cream:

1 cup

heavy whipping cream

2

TBS powdered sugar or fine grain sugar

2

TBS Bailey's Irish Cream or similar.
---
Instructions
For the pie filling:
In a saucepan over medium-low heat, stir together brown sugar and butter until the sugar dissolves and the butter melts. Continue cooking for an additional minute and remove the saucepan from the heat.
In a small bowl, lightly beat the egg yolks.
In another bowl, whisk the flour with 1.5 cups of the milk until fully incorporated (no lumps), then add the egg yolks and salt and mix together well. Add the remaining 1.5 cups of milk and mix well.
Add the flour mixture to the saucepan with the melted butter and sugar and return to the stove.  Cook on medium-low heat until the mixture thickens and resembles pudding. Stir frequently and be patient - this process can take 30-45 minutes.
Midway through the cooking process, preheat your oven to 350F.
Once the custard has thickened, remove from heat and stir in vanilla extract. Allow to cool for 5 minutes while continuing to stir frequently to prevent lumps.  If lumps do form, pour the mixture through a fine mesh strainer to remove them.
Pour pie filling into prepared pie crust and bake for 8-10 minutes or until filling is set. It will still jiggle when shaken but will be tacky to the touch.  Allow to cool for 15 minutes and then chill in the refrigerator for 2 hours.
For whipped cream:
With a hand mixer or stand mixer fitted with whisk attachment, beat heavy whipping cream on medium speed until it starts to become light and frothy.
Slowly add powdered sugar and Irish cream. Continue beating on high until stiff peaks form.  Pipe or spoon onto chilled pie and serve.  Store leftovers in the refrigerator.
Notes
You can substitute any homemade or pre-made crust that you like, though be aware that cookie crumb crusts will add more sweetness.  Because the custard only needs to bake for a short time, you will need to partially bake the crust and allow it to cool before adding the cooked custard.
The whipped cream recipe will make quite a bit more than is shown in the photos - I just wanted to pipe a simple border and keep the rest off to the side to pile on top as desired.  Go ahead and pile on that loveliness!
Save the unused egg whites for other usage OR if you prefer meringue over whipped cream, you can use it to make your own and top the pie with that instead.
Prep Time:

5 mins

Cook Time:

Up to 1 hour 15 minutes
Keywords: butterscotch pie, fresh whipped cream, homemade pie, dessert
Recipe Card powered by
Do you love this recipe and want to be able to find it later? Use the image below to pin to your Pinterest boards, or share with your friends on social media by using the buttons at the top and bottom of this post. Thank you for visiting my blog!