On these last blisteringly hot days of summer, a cold, creamy, citrus-y pie is a blissful way to beat the heat.
The filling uses a whole can of Eagle Sweetened Condensed Milk along with egg yolks and fresh lemon and orange juices, resulting in a smooth-as-velvet texture bursting with juicy fresh flavors.  And come on, sweetened condensed milk?  That stuff makes any dessert 20x better.
But let's talk about that ginger whipped cream, also known as the best whipped cream on the planet.  Over the years I've become obsessed with infusing cream with different flavors before whipping it and it's a total game changer.  The combo of that fresh ginger flavor, sweet cream, and the smooth orange-y pie filling is pure perfection.
The best part is that, other than waiting for the pie and cream to chill, this recipe is really fast and easy to prepare!  Enjoy!
Print
Orange Creamsicle Pie With Ginger Whipped Cream
---
Shortbread Pie Crust:

½ cup

unsalted butter (

1

stick) at room temperature

¼ cup

powdered sugar

1 cup

all-purpose flour

⅛ tsp

baking powder
Pinch of salt
Creamsicle Pie Filling

1

14oz can Eagle sweetened condensed milk

5

large egg yolks

1 tsp

orange zest

½ cup

fresh-squeezed orange juice

¼ cup

fresh-squeezed lemon juice
Additional orange zest for garnish, optional
Ginger Whipped Cream

2 cups

heavy whipping cream
About

½

inch of fresh peeled ginger, cut into thin slices

6

TBS powdered sugar
---
Instructions
Shortbread Pie Crust:
See notes about crust. Preheat oven to 350F. In a large bowl, cream butter and sugar until light and fluffy. In another bowl, sift together flour, baking powder, and salt. Blend dry ingredients into the butter mixture. Spread into 9-inch pie pan, using a non-stick spatula to spread it evenly across the bottom and up the sides of the pan. It will be more like a sticky cookie dough than a pie crust dough.
Bake in oven for 8-10 minutes until crust is firm and is just starting to turn a light golden. Remove from oven and allow to cool. Leave the oven on and while the crust is cooling, make the filling.
Creamsicle Pie Filling
In a bowl, whisk together sweetened condensed milk, egg yolks, 1 tsp zest, orange juice, and lemon juice until smooth. Pour into the cooled pie crust.
Bake for 15-18 minutes or until the center has just set. Gently jiggle the pan in the oven and it should have a little movement but should not be loose. Remove from oven and cool to room temperature and then chill in the refrigerator for at least 3 hours.
Ginger Whipped Cream
Place a metal mixing bowl and metal beaters into the freezer. In a heavy-bottomed saucepan over medium heat, heat the cream and ginger until mixture begins to steam and bubbles appear on the service. Do not boil.
Remove from heat and place lid on pan. Allow to steep for about 30 minutes. Strain out the ginger pieces and chill until completely cold.
Using the cold beaters and bowl from the freezer, whip on medium high-speed until mixture becomes foamy. Begin to add the powdered sugar while mixing on high speed until stiff peaks form. Serve with slices of the chilled pie.
Notes
The shortbread crust has a delicious, buttery flavor and a soft texture, but it's a sticky dough that is fussy with releasing cleanly-cut slices once the pie is baked. If having clean slices is important to you, you are welcome to substitute any pie crust you like (homemade or premade pastry crusts or graham cracker crusts will work fine)
Recipe Card powered by
Save this recipe for later!  Use the Pinterest-ready image below.  Just hover your mouse over the photo and click the button that pops up!
Here are some more pie recipes you might like:
Chocolate Orange Ricotta Tart
Butterscotch Pie With Bailey's Irish Whipped Cream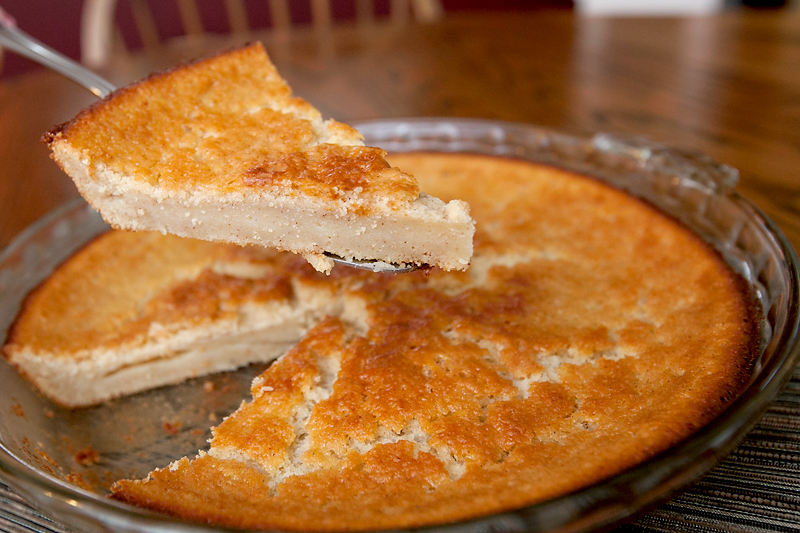 Impossible Buttermilk Pie
Toasted Milk Pie
I was provided with some free Eagle Sweetened Condensed Milk to create this recipe.