Daily Goodie Box is a sample box service.  These services differ from the traditional subscription box because they are absolutely free!  All you do is create an account, fill out your profile, and you'll be sent a Goodie Box (speed and frequency depends on availability)  All that is asked in return is that you log in to your profile after receiving your box and leave feedback on the products that you received.
This is my personal favorite sample box out there because the selection of products is always unique and includes products from brands that I'm not familiar with already.  You can view my last Daily Goodie Box review if you want a closer look at some products you may receive.
Let's see what goodies I got this time!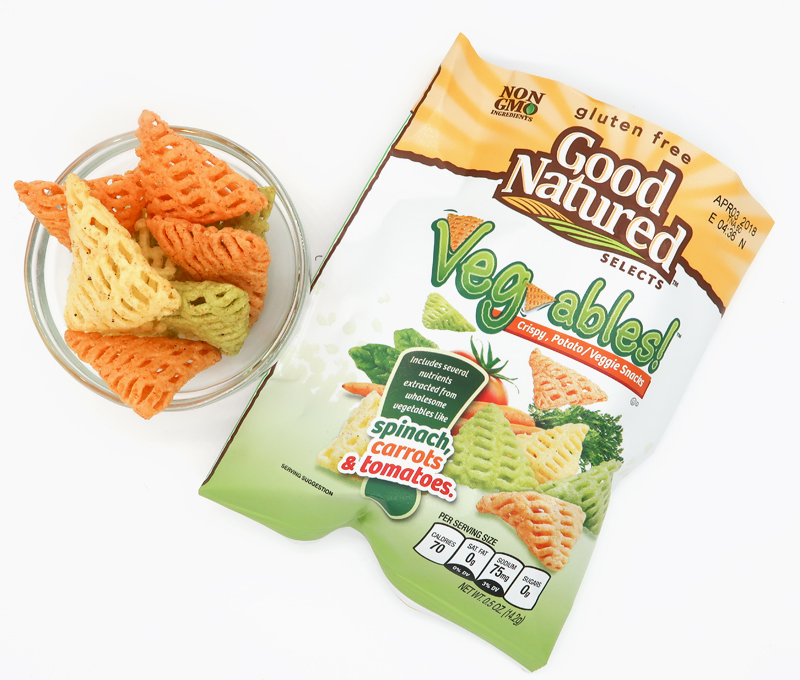 Good Natured Veg-ables are crispy potato and veggie snacks that I knew would be perfect for my kids, considering they already eat a number of different similar veggie snacks.  I found these to be significantly less salty than other veggie snacks and both of my kids loved them.
I typically don't like ginger candy, so I wasn't expecting much out of these mango-flavored Prince of Peace Ginger Chews.  I was pleasantly surprised by these little candies.  The addition of the mango tones down the spicy burn of the ginger.  My first thought when trying these was that they'd be a great nausea-soother for pregnant women dealing with morning sickness.
Next was a selection of Choice organic teas, Herbal Zap herbal supplement, and biPro Protein Water.  
The Herbal Zap supplement is meant to be a tummy soother and is a mix of amla, coriander, vasaka, and parpataka (I don't know what most of those are either, but you can read about them here)  You dissolve the powder into some hot or cold water and drink.  I haven't tried my sample yet as I plan to keep it around for when I have stomach issues.
The Choice Immunity Support teas couldn't have come at a better time, as we're currently dealing with a (thankfully mild) respiratory virus making its way through the family.  I sipped on a mug of the Reishi Matcha tea, sweetened with a little Stevia that I added on my own, and it had a pleasant taste.  I haven't tried the Shiitake Turmeric tea, though that one will make for a comforting bedtime beverage as it is caffeine free.
I really like the idea of biPro protein waters, especially as a pre or post workout drink.  Each 16.9fl oz bottle contains 20g of protein, 90 calories, 0g carbohydrates, 0g fat, and 100mg of caffeine for an energy boost that gets into your system fast.  It's naturally sweetened with Stevia and I found the taste to be pleasant and mild.
Next up were a few beauty and hygiene samples:  Goodwipes Personal Lavender Wipes and Andalou Probiotic + C Renewal Cream.  Personal hygiene wipes, for gals and guys, are popping up everywhere and the idea behind them is sound for a quick way to freshen up while away from home.  I like that these wipes are flushable and that the lavender scent is not overpowering.  The Andalou cream uses a mixture of fruit stem cell complex, vitamin C, and probiotic microflora and I appreciated that it felt light on my face and didn't leave my skin greasy or dry.
I was most excited about this full size bottle of napz all natural short-term sleep aid, since I had been researching natural sleep aids over the last couple of weeks and them boom, this shows up at my door!  The capsules contain chamomile extract, passiflora extract, lemon balm, and hibiscus flower extract.  Generally I don't have trouble sleeping, but I go through occasional cycles of having trouble either falling or staying asleep.  When that has happened in the past I've tried melatonin (didn't work) and sleep aids like Unisom (massive hangover and groggy all the next day, ugh!)  The ingredients in this supplement are the same ones I had been researching and I've been happy with the results.  They help me to relax naturally but they aren't as "potent" as a Unisom type drug, so there's no after effects the next morning.
Anyone can get a Goodie Box for free!  Just create an account at www.dailygoodiebox.com  and make sure to complete your profile to qualify you for available boxes.
This isn't a sponsored post and we are not affiliated with Daily Goodie Box.  Anyone can get a box for free!