Daily Goodie Box is a FREE "subscription box" service where you receive a box of goodies in the mail in return for leaving reviews about the products that you try.  You don't have to pay for the samples or shipping.  Like most sample boxes, the boxes and products you receive are subject to availability.  I'm a member of several sample box services and as long as you don't go in with any expectation of quality or number of samples, it's worth signing up to receive some fun unexpected things in the mail every now and then.
When I received my first Goodie Box, the first thing I noticed was that the products were... really cool.  Most other sample boxes I've received have been full of more mainstream products that I was already familiar with or that are available at any local retailer.  My Goodie Box was packed full of products from brands that I had never heard of and a few of them were completely unique products that I never even knew existed.  The interesting samples really set Daily Goodie Box apart from other sample services.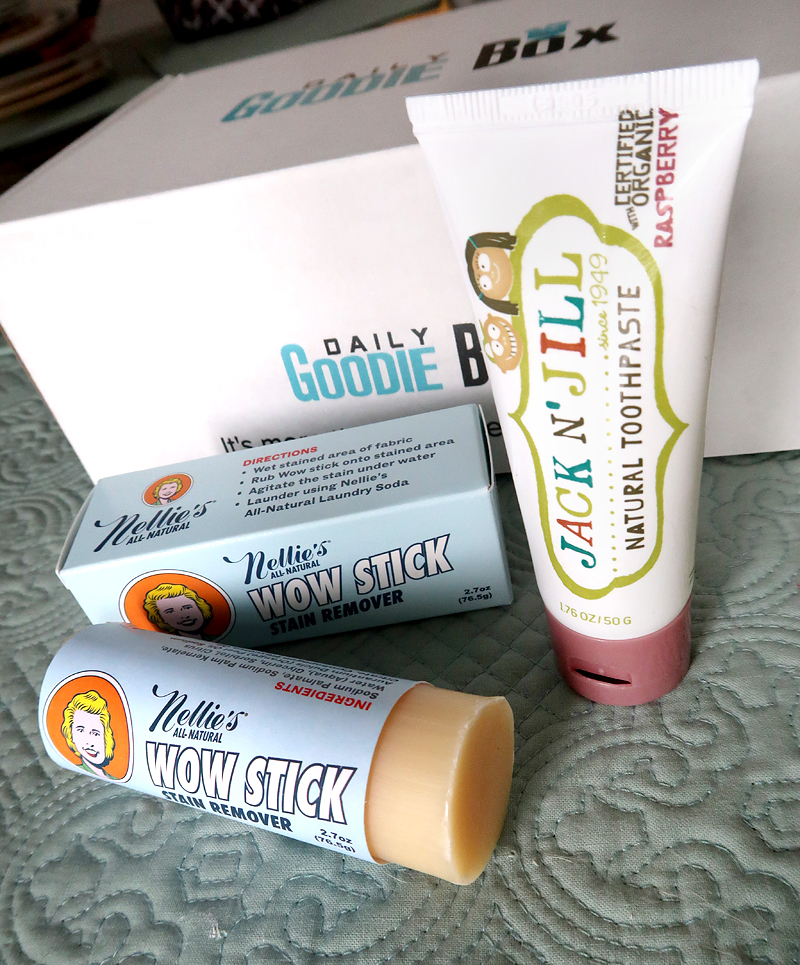 First I pulled out some products that, as a mom, appealed to me.
Nellie's All Natural Wow Stick Stain Remover:  This stain stick kind of looks and feels like a candle with a pleasant, light citrus smell.  I did some research and found that Nellie's creates all sorts of cleaning products without irritants or toxins.  I use special laundry detergent to laundry my kids' clothes but I've been using mainstream stain removers/stain sticks on the more stubborn spots.  Super excited to give this a try and know that I'm not adding icky chemicals to their clothes.
Jack 'n Jill Natural Toothpaste:  This is one of the first products I grabbed out of the box and I'm so excited about it.  Jasper, my two year-old, is good about letting me brush his teeth and we've been using a couple of different brands of "safe to swallow" toothpaste.  He hasn't learned to spit out his toothpaste yet instead of swallowing it, so I'm glad to have another option for brushing his teeth knowing it's made with organic, safe ingredients.  I wish it was available to me locally!
Gorilly Goods Sweet Curry Cashew Snack Mix: Sooo glad my Goodie Box introduced me to this brand, because I'm now a huge fan.  I love using nuts as a hit of protein and good fats to lift me up during an afternoon slump, and these are so tasty!  This snack mix is a great mix of sweet and spicy with just the tiniest bit of cayenne for heat.
Nature's Bakery Stone Ground Whole Wheat Fig Bar:  This is another brand that I wasn't familiar with, but I'm excited to be introduced to these thick, soft fig bars.  They're like Fig Newtons but with a way more wholesome list of ingredients.  I wish I had more of these... I'll have to track them down.
Xylichew chewing gum: Pretty much any gum that I chew uses xylitol because of the benefits to dental health, and I'd never heard of this brand before so I was excited to try it.  Unfortunately, I found that while the minty flavor was nice, it doesn't last very long and this isn't something I would buy in the future.  That's one of the big benefits to subscribing to sample boxes such as these... you can try new products without having to pay for them, and then you can share your opinions and decide if they are something you'd buy again!
By the way explained at Eccella Smiles blog you will find more details about why this gums are good for your oral health as well.
Next are some packets of nifty feel-good products.  Seriously, I was having so much fun with the stuff in this box.
Aloha Daily Good Greens Whole-Food Powder: This is a supplement that you can add to protein shakes, smoothies, puddings, etc to get a dose of organic superfoods, vitamin D, and a full serving of fruits and vegetables.  The ingredients include Fair-Trade Cacao Coconut Sugar Coconut Water Peas Maple Sugar Spinach Wheatgrass Juice (does not contain gluten) Wild Blueberries Raspberries Sunflower Lecithin Spirulina Beet Juice Vanilla Bean White Button Mushrooms Moringa Xanthan Gum Himalayan Pink Salt and Monk Fruit Extract.
Coffee Blocks Butter Coffee: I was SO confused by this product... Butter? Coffee?  In a "block"?  The little packet tells me it's a mixture of virgin coconut oil, clarified butter from grass-fed cows, instant coffee, organic egg yolks, and vanilla extract.  You squeeze the contents into a mug and add 8oz of hot water and 4oz of room temperature water and then stir until you get a nice foamy top.  The nutrition facts have me hesitating to try this as just one packet contains 210 calories and 22g of fat, which is a bit heavy for me for a cup of coffee.  But it's still a neat idea and I'll probably prepare it just to give it a taste with Matt and see what it's all about.
Dream Water:  This powder contains a blend of Gamma-Aminobutyric Acid, Melatonin, and 5-Hydroxytryptophan to help you reduce anxiety, relax, fall asleep and stay asleep.  I'm really intrigued by this but, unfortunately, it is not recommended for women who are currently nursing, so I will have to set this aside until after I wean to give it a try.
Just Chill Calming Drink - Another product claiming to help me calm the heck down... it's like these people think I need to reduce the stress in my life, eh?  Just Chill includes L-Theanine, a unique amino acid found in green tea.  Just Chill claims that L-Theanine has been shown to help improve performance by reducing stress and increasing focus without causing drowsiness.  Unfortunately, after doing some research, I found some information suggesting that it's not a good idea for breastfeeding mothers to consume L-Theanine, so this is another one I'll have to pass o to Matt.
Overall, I think that Daily Goodie Box is one of the better, if not the best, sample box services out there with their mix of interesting products from lesser known companies.  If you enjoy being introduced to new brands and trying unique and fun new things, then there's nothing to lose by signing up, because it's totally free!