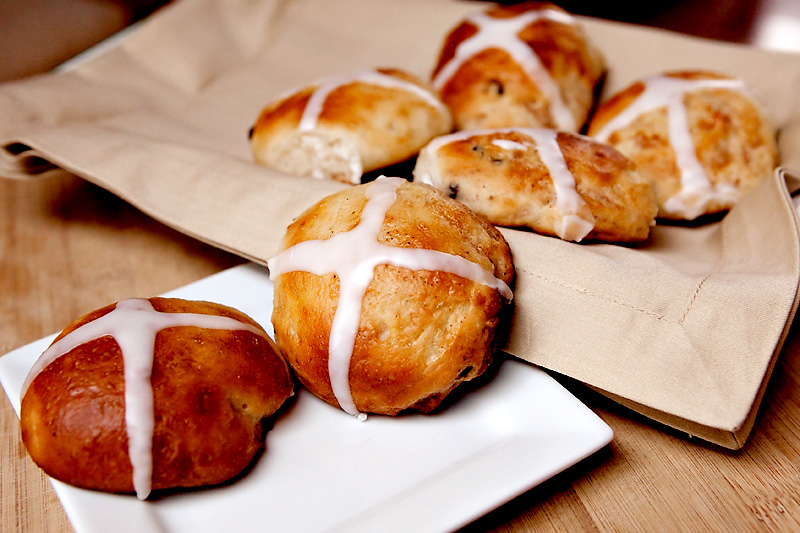 Hot cross buns are a popular treat at Easter time, and there are many different variations of them! Basically, hot cross buns are described as any sweet roll marked with a cut or icing cross.  Traditionally served on Good Friday, hot cross buns are usually made with some kind of yeast dough and dried fruit.  There's a superstition surrounding these buns that if you share one with another person, you will ensure your friendship with him/her throughout the coming year!

I decided to use The Pioneer Woman's method for baking hot cross buns, which is essentially a cinnamon roll dough (can I get a heck yeah?) shaped into buns and marked with a simple icing cross.  Here's a rundown of the entire process, and I've included some step by step photos as well!
Print
Easter Recipe: Hot Cross Buns
---
BUNS

2 cups

milk

½ cup

vegetable oil

½ cup

white sugar

1

package (2 ¼ Teaspoons) Active Dry Yeast

4 cups

All-purpose Flour

½ cup

flour, additional

½

heaping teaspoon Baking Powder

½

flat teaspoon Baking Soda

2 teaspoons

Salt

¼ cup

Sugar

1 teaspoon

Cinnamon

½ teaspoon

nutmeg (cardamom or allspice can be used)

½ cup

raisins, currants, or dried cranberries
GLAZE

1

whole Egg White
Splash Of Milk
ICING

1

whole Egg White
Powdered Sugar
Splash Of Milk
Few drops of vanilla extract
---
Instructions
FOR THE BUNS:
Combine 2 cups milk, oil, and ½ cup sugar in a saucepan. Heat until very warm (but not quite boiling) while stirring constantly. Remove from heat and allow mixture to cool until it is still warm, but not uncomfortable to the touch.
Sprinkle yeast over the mixture. Add the 4 cups of flour and stir until combined. Cover with a towel and place in a warm area for about 1 hour.
Sprinkle in ½ cup flour, baking powder, baking soda, and salt. Stir until just combined.
Combine ¼ cup sugar with cinnamon and nutmeg (or spices of your choice) in a small bowl.
On a lightly-floured surface, lightly flatten dough with your fingers. Sprinkle a generous amount of the sugar/spice mixture. Add a sprinkle of dried fruit, then fold the dough over on itself and press lightly. Add a bit more sugar/spice and more dried fruit, then fold the dough again. Repeat a third time.
Pinch off golf ball-size pieces of dough. Roll into a ball and then slightly press flat into a bun shape. Place on cookie sheet covered in cooking spray. Cover and place in a warm area for an hour or more.
Preheat oven to 400 degrees while the dough is rising.
FOR THE GLAZE:
Whisk 1 egg white with a little milk. Using a pastry brush, brush lightly onto each bun.
Bake for 20 minutes or until buns are a rich golden brown. Remove from pan and cool completely on cooling racks.
FOR THE ICING:
Mix 1 egg white with enough powdered sugar for icing to be very thick. Add milk as needed to thin. Whisk in a few drops of vanilla extract for added flavor.
Add icing to a small Ziploc bag and snip the corner. You can also use a traditional pastry bag with a small round tip. Pipe crosses onto each of the cooled rolls.
Recipe Card powered by

This is what your dough should look like after step 3 above (well, you'll have more dough if you use the whole recipe.  I cut this one in half when I made it).
Put your snout in there and inhale good and deep.  Mmm.. nothing, and I mean nothing, smells as wonderful as yeast-leavened dough.

Cover that lovely-smelling dough with a tea towel and set it in a warm place to rise for at least an hour.  I like to place it under an incandescent light if the room is chilly.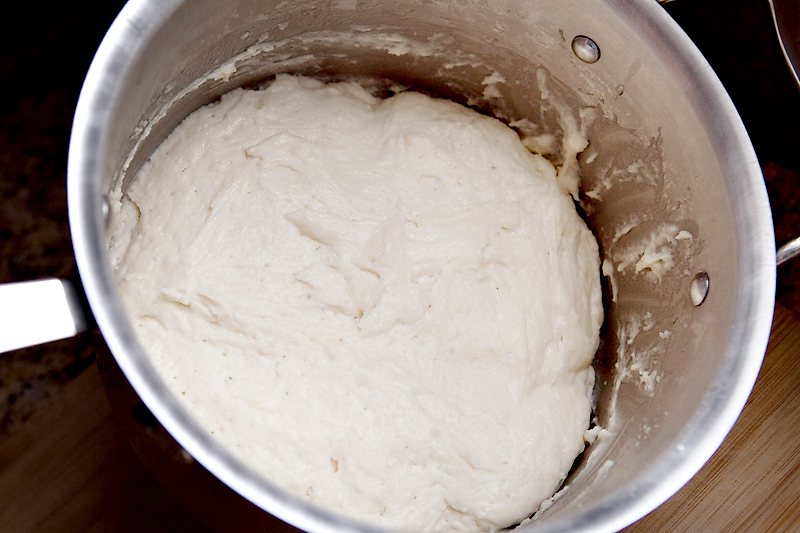 After an hour or so, you should have... more dough than you had in the beginning!
Go ahead, give it another good sniff.  I won't tell anyone.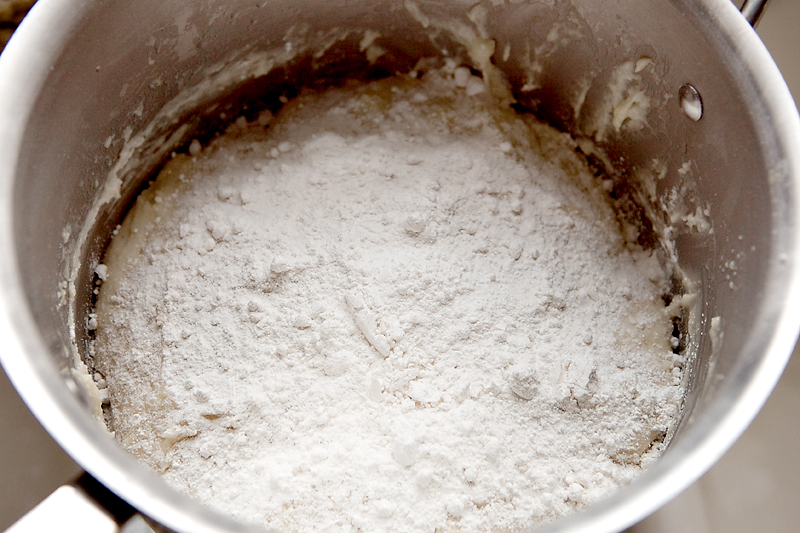 Then you'll sprinkle in the next round of flour as well as some baking soda, baking powder, and salt.  Mix that together until nicely combined.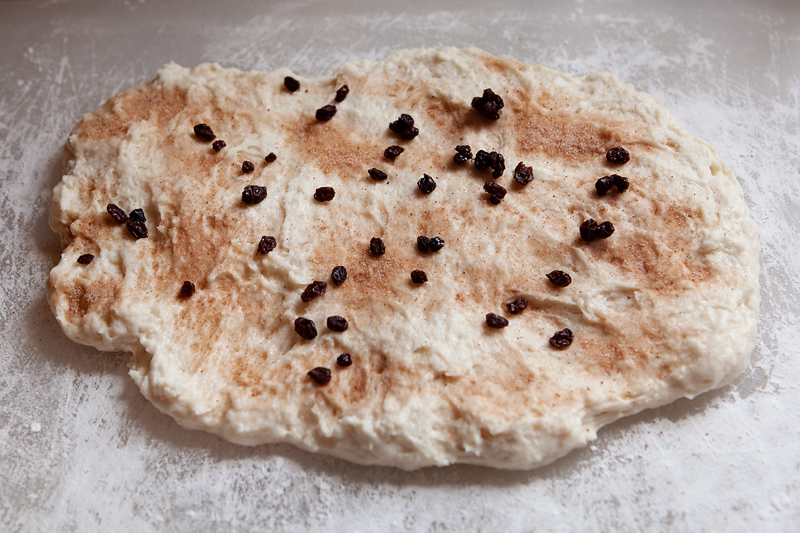 Slightly flatten the dough onto a floured surface, and sprinkle with sugar, cinnamon, and whatever spices your heart fancies.  Cardamom, nutmeg, or allspice are all fantastic choices!  Go ahead and sprinkle on some dried fruit as well.  You can use currants, raisins, dried cranberries, etc.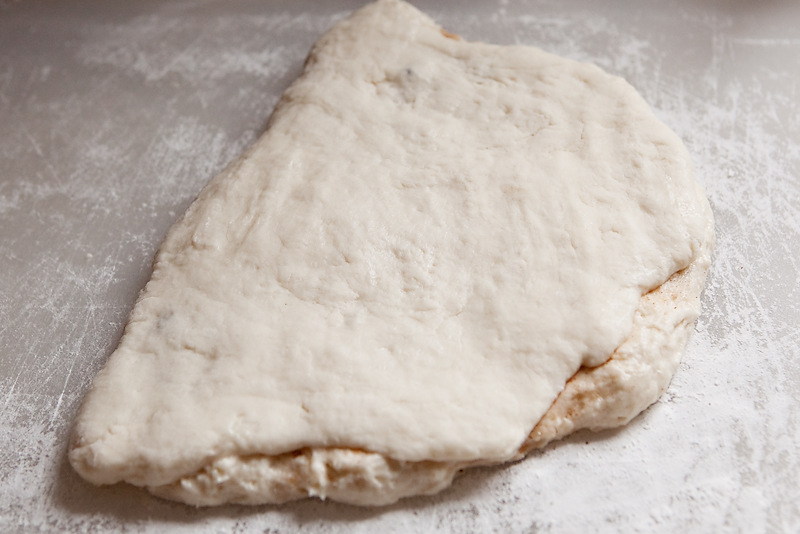 Fold the dough in half, slightly flatten, and repeat that whole process 2 more times.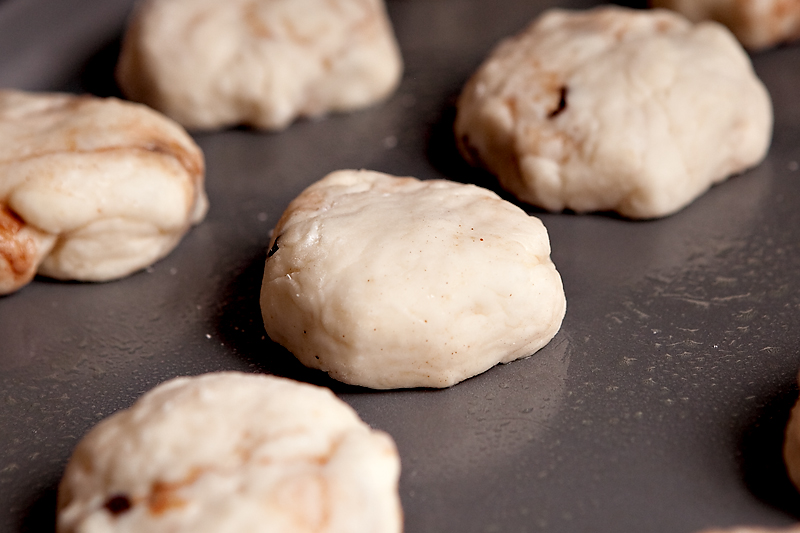 Pinch off pieces of dough approximately the size of a golf ball, shape them into bun-like shapes (they don't have to be perfect - mine weren't!) and place them onto a greased cookie sheet.

Place the buns somewhere warm (I like putting them under a warm light!) and cover with wax paper sprayed with cooking spray (that'll help the paper from sticking to the dough)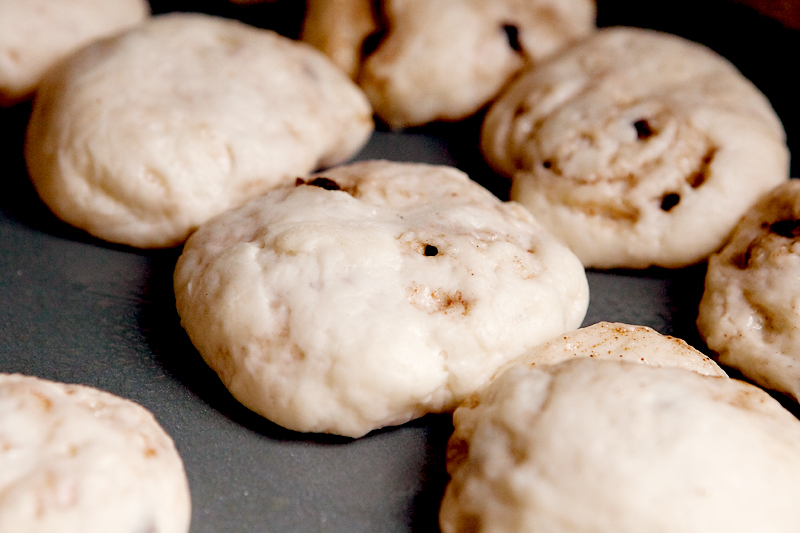 About an hour or so later, you should again have.. more than what you started with!
Well, you should have the same number of buns.  Just bigger buns.
If you have extra buns, and you are baking these while home alone.. I would suggest running.
Seriously, just head for the door.  Get out while you again.
So anyway, once you've ensured your safety...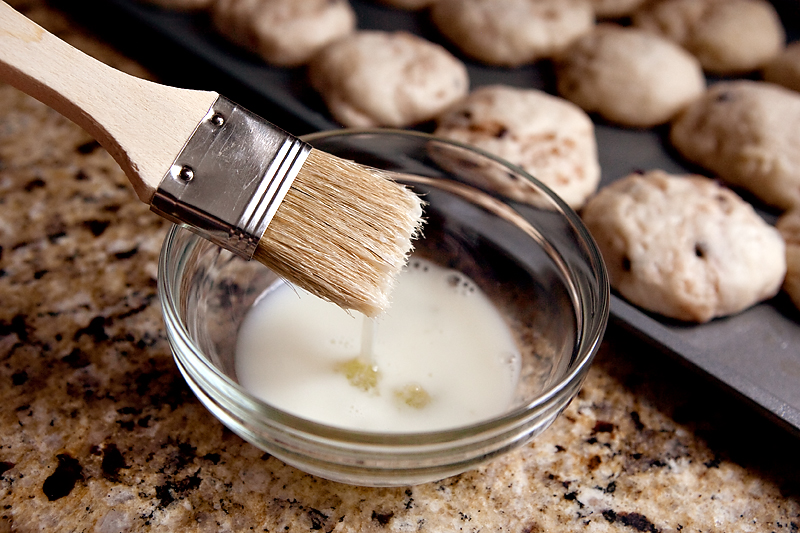 Create a wash by whisking together an egg white and a lil milk.   Lightly brush the mixture onto each bun.  This helps seal the dough and also helps them have a beautiful golden color when baked!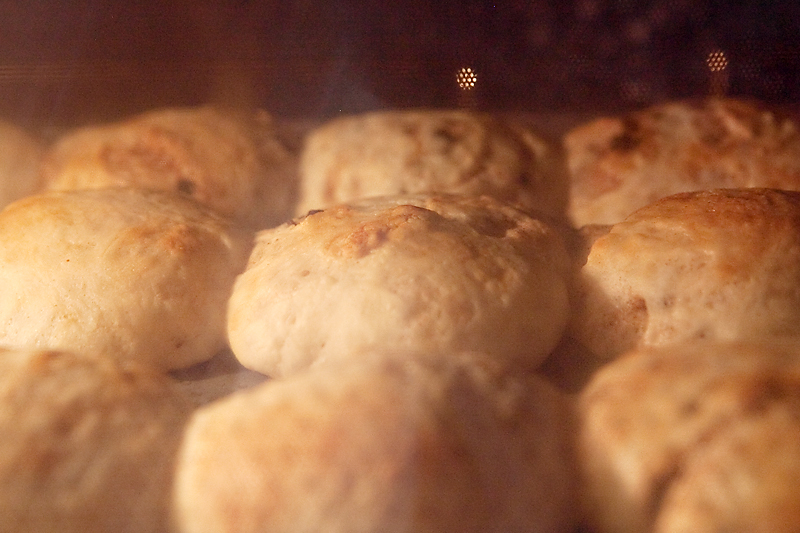 Bonus through-the-oven-door shot!  Pop those babies into a 400F oven for about 20 minutes, or until beautiful golden brown.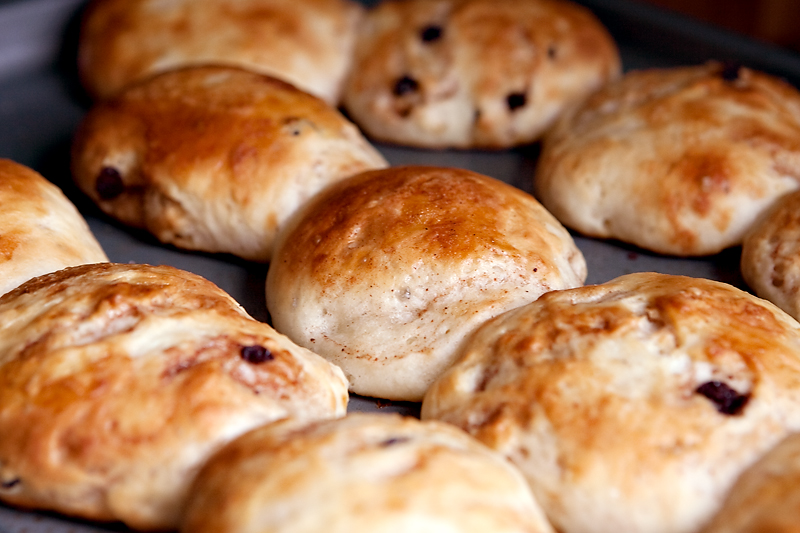 Oh baby.  Sweet dreams are made of these.

Remove the buns to a cooling rack, and while they're cooling down, you can make the icing for your crosses!  Mix together an egg white with a bunch of powdered sugar and a few drops of vanilla.  Just eyeball the amounts of sugar until you have an icing that's pretty thick.  If you make it too thick, add small splashes of milk to thin.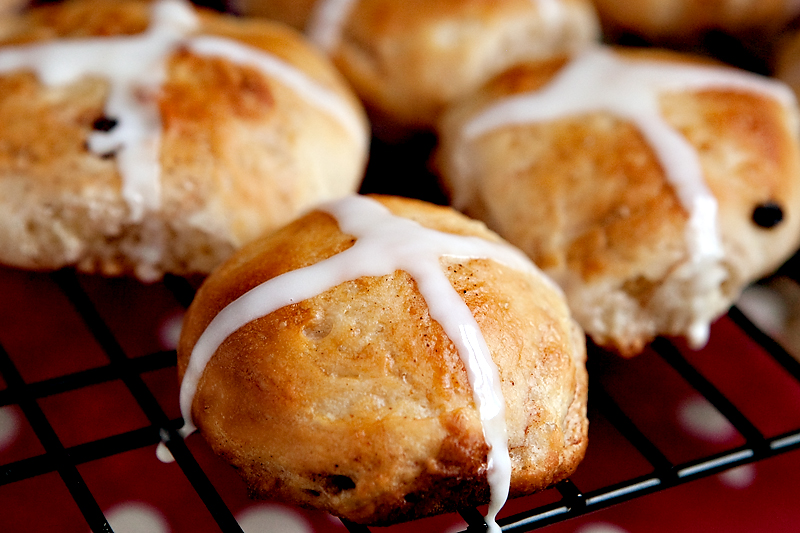 You can use a pastry bag with a small round tip, or just spoon the icing into a ziploc bag and snip a tiny hole into the corner.  Make crosses into each of the buns (but make sure they are completely cooled first!)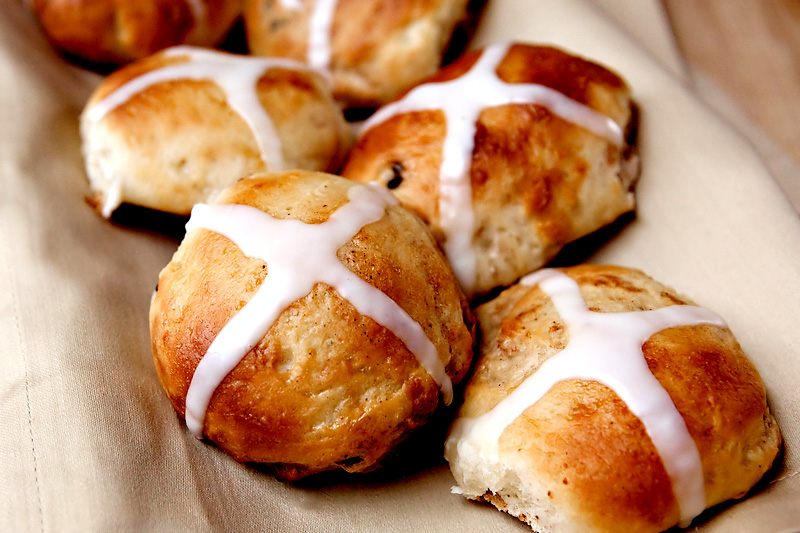 These buns are just dandy at room temperature, but you can give them a quick zap (<10 seconds) in the microwave if you want a more cinnamon roll type experience.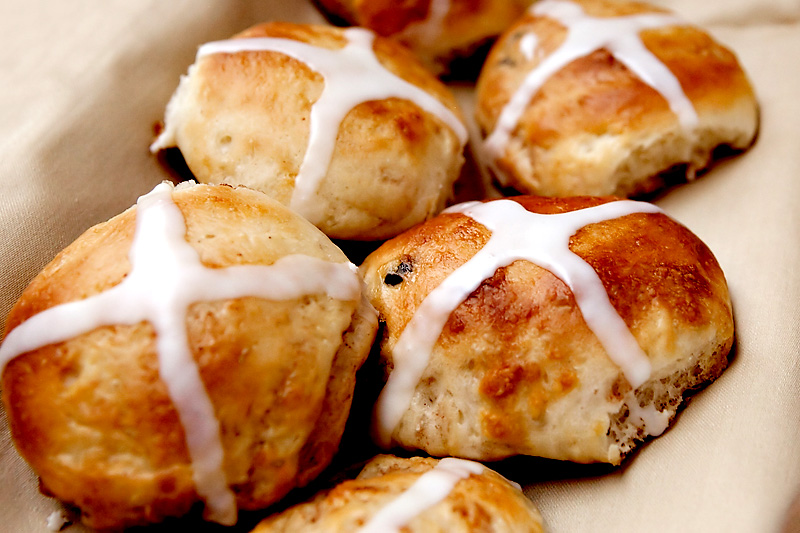 There are loads of different ways to create hot cross buns, and I had a difficult time narrowing down which one to tackle.  This is a beautiful recipe for a basic dough, however, so I'm sure I'll be returning to it for other experiments as well.  I do love a good ooey-gooey plate of cinnamon rolls for breakfast...
Happy Easter Week , everyone!  We'll be posting a new holiday-related recipe every day this week, so be sure to subscribe via e-mail or RSS reader so you don't miss out!  You can also "like" our brand spankin' new Facebook page to receive updates there, as well!