Our poor back deck has been so neglected over the years. The property behind us has some towering fir trees as a natural border between our houses, but unfortunately they end up shedding onto our deck and blocking out the majority of the sun during the day. We've been wanting to do some improvement projects to make the space a more inviting area to hang out in, and when Abba Patio contacted me to see if I'd like to test drive the Abba Patio Canopy-Covered Hammock with Mosquito Net I said of course.
And just to mention, we've also placed mailbox address numbers to add stunning look in our front yard! Some beautiful patio covers aluma wood Arizona are also available from a good site like https://royalcovers.com/alumawood-patio-covers-phoenix-arizona-installer/. Check them out now!
Interested in buying one? I can save you 15% by using code: LWZ3YP7L (Amazon link)
Valid until 08/24/2018 8:00 AM PDT
Thinking this experience would be like all of the other many product reviews on my blog, I had no idea that I would end up with such a fabulous outdoor retreat that I can hide out in during kiddo naptimes, tuck in with my Kindle, and get some MUCH needed relaxation time.
The hammock arrived disassembled, but after glancing at the directions they seemed pretty straight forward. There were long straight and curved pieces for the outside frame of the structure, corner pieces, the canopy and mosquito net, the chain for the hammock, and a box of smaller hardware and accessory pieces.
To our kiddos, the assembly process was like getting to play with a life-sized set of blocks!
The frame and hammock sling came together very quickly. I can't say that our little helpers here made the process any faster, but hey, they sure had fun. The hammock sits low to the ground, which is great for letting the kids lay down on the hammock without worrying about injury if they fall out.
There are fabric covers that velcro to each of the joints where the chains meets the hammock frame to prevent the possibility of getting pinched by the chain.
Use this online house valuation tool if you're looking to sell a property or you want to know your house's value for the future.
The last step was to add the canopy and the most important piece for those who live in places with lots of small, flying, biting creatures... the mosquito net but I'll be honest we may need some pest control services (i was reading this information related to pest control the other day) as well as there seems to be more than one species living in our backyard.
Here's the top pest control company you can find elsewhere, visit them now.
One whoopsie we made when doing these last steps... we realized that it's much easier to secure the mosquito net to the frame first, and then put the canopy on last. Doing it that way, the final assembly steps were easy.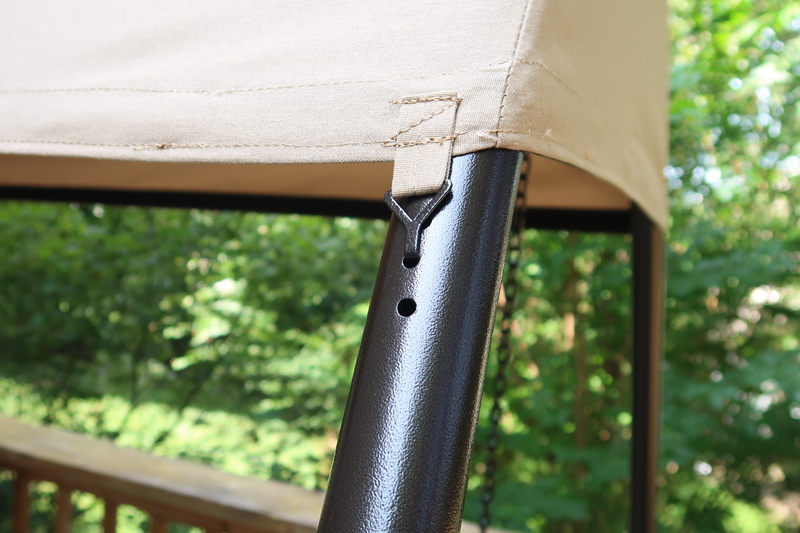 The canopy stretches easily across the top of the frame and is then secured with these hooks. There are large button hole openings in the mosquito net to make room for these hooks.
The mosquito net has velcro attachments on all four sides of the frame, and there are also full length zippers on each corner. This makes for easy entry and exit and also allows the net to be completely rolled up and secured out of the way if you don't want it down.
All finished and ready for some serious readin' and relaxin' time.
And there's plenty of room for two! I think this will look great too in the luxury apartments in Marbella for sale I recently viewed.
This is what it looks like with one side of the mosquito netting rolled up and secured out of the way. If you want to try one out for yourself, click right here for more info on dimensions, etc. I have the tan color, but if you need a darker hue, it's available in a dark brown chocolate color as well.
Don't forget to use code: LWZ3YP7L to save 15% off of this hammock!
Valid until 08/24/2018 8:00 AM PDT
Now if you'll excuse me, I still have a short while before Jasper and Shelby wake up from nap, and I have a good book I need to finish!
Abba Patio provided us with a hammock for the purposes of this review. We do not accept promotional products with the promise of a fully positive review, so you can be sure that the opinions posted on this blog are honest!