If you're looking for a campground that values customer service that goes above and beyond that of any campground we've ever stayed at before, then Lazy Llama Campground near Greeneville and Jonesborough TN is the perfect place for you.
LOCATION OF LAZY LLAMA CAMPGROUND
405 Chuckey Ruritan Road, S., Chuckey, TN 37641
Click for important info regarding directions
CONTACT INFORMATION
Phone: (423) 823-2100
Email: [email protected]
Website: https://llamacampground.com
CAMPGROUND AMENITIES
Electric, water, and sewer at all sites (50/30/20 amp)
Open year round
Free wi-fi
Large sites, big rig friendly, pull-thru sites available
50+ year-old maple trees
Seasonal rates available (no permanent residents)
Free weekend hay ride to see llama farm
Weekly art classes
Game room (ping pong/ pool table)
Small vegetable garden
Baseball/Softball field
Bathroom/showers in office facility (during office hours only - no separate bath house)
Coin-operated washer/dryer in office
Portable fire rings allowed and available to rent
Pet-friendly
Lovely views of countryside and llama farm
OUR EXPERIENCE AT LAZY LLAMA CAMPGROUND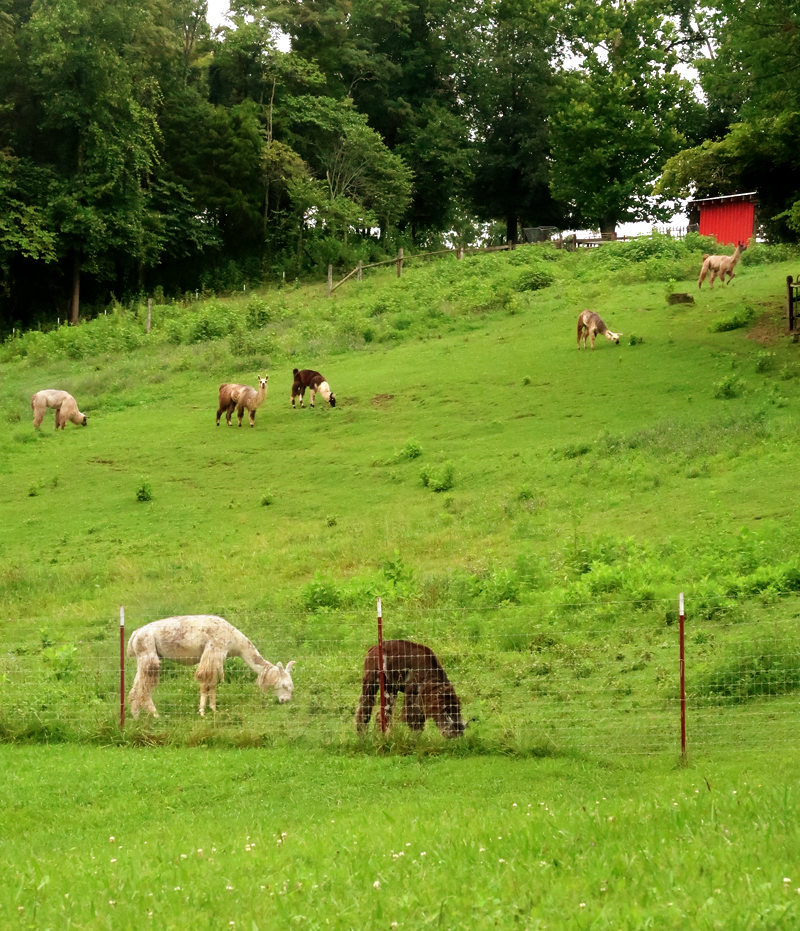 Jerry and Carolyn Ayers, long-time educators in the hills of East Tennessee, dove headfirst into what would become a labor of love when they purchased a decrepit mobile home park next to their farm, Walnut Ridge Llamas, and turned it into a quaint 31-site RV campground. We spent several nights at the campground and were delighted to uncover such a hidden gem. You can view the mobile homes for sale in Florida.
One side of the campground is entirely made up of long pull-thru sites. Any seasoned RV-er knows that pull-thru sites are a rare luxury. These sites are huge and we could park our big ole truck either in front of or behind our camper with plenty of room to spare.
The sites are pretty level front-to-back, though because they are cut into a hill you will likely have to drive up onto some boards on the lower side to get a nice side-to-side level.
As we were pulling in, Jerry himself pulled up in his truck to introduce himself, chat with us and our kiddos, and make sure we had what we needed. We had forgotten one of our boards and Jerry was wonderfully helpful and found an extra board that we could use! How's that for service?
It was a rainy, rainy, rainy day, so after we got set up we spent the afternoon and evening inside. The kiddos ate homemade chicken pot pie for dinner and played with their toys in the bunk room.
This trip was our first trial run of the custom crib rail that Matt built for Shelby! We needed a solution to keep her fully enclosed in her upper bunk so that she would be safe in there overnight. He built this rail from scratch and it worked out perfectly!
Jasper had been too scared to sleep in his bunk and had been snoozing on the sofa below, so Matt made an extra rail for him to feel secure. Jasper's rail didn't need to go all the way up to the ceiling and the slats could be farther apart. It was perfect to help him feel safe up there and now he loves his bunk!
The next day the rain started to subside and we were able to get outside for a bit. Our campsite overlooked Jerry and Carolyn's lovely farm just up the hill.
Sweet llama friends would frequently hang out near the lower fencing, munchin' on the grass.
Since the campground is small, quiet, and nestled into the countryside, the kids were totally safe running around playing outside the camper without the worry of sudden traffic.
Next to the campsites is a small flower and vegetable garden. Jerry told me the garden is there for the campers and to take whatever was ready to be harvested! We didn't have need for the produce during this trip, but I thought that was a nice family-oriented amenity.
Look! Sunshine!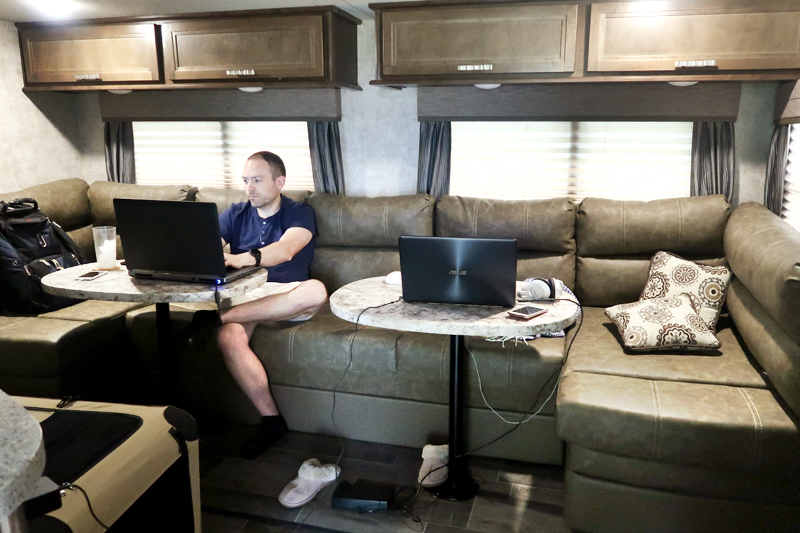 This was partially a work camping trip. Matt has a full-time remote position (with occasional travel to client sites) and I do part-time freelance and independent contracting. The double tables in our new camper make for an ideal setup when we're working at the same time.
Just past the entrance is the campground office.
Inside is where art classes are held each Saturday morning. We had scheduled ourselves for a hike and so were unable to attend the class that day, but Carolyn had set the room up for an introduction to spinning class, and it sure looked like fun!!
A yarn crafter's dream.
The office is also where you can purchase lots of handmade llama items such as hats, headbands, socks, scarves, and more.
Each Saturday evening, Jerry pilots a hay ride that meanders through their beautiful property, with a stop near their home and barn to interact with the beautiful llamas!
What a pleasant way to spend our last evening at the campground! Jerry has truly built a community between his own family and his campers, both long and short term, and we enjoyed friendly, comfortable banter on the ride up to the farm.
As soon as we exited the trailer, the nearby llamas were all too eager to poke their necks in and start munching on the hay - so funny.
Shelby stood in front of a big fan inside of the barn and made hilarious expressions as the air blasted her in the face. She was cracking us up!
Forget all these eyelash treatments that claim to give you the longest, most voluminous lashes in all the land. If you want the secret to luxurious lashes, just ask the llamas.
The passion that Jerry and Carolyn have for their llamas and their farm oozes out of them as soon as they begin telling stories of their animals and their property.
Jasper and Shelby were able to help lead the llama around the yard, and we all got to pet their soft necks.
This little baby was born only the week before and was just too cute for words. His mama is a protective one and didn't like being too far from her little one!
It was an absolutely perfect afternoon and we finished the ride with warm hearts. We were just happy to be getting the opportunity to spend time with such absolutely genuine and kind people.
I can't mention the quiet countryside enough.
Whether you're passing through the area and need a stopover to get some rest or you're in search of peace from a weekend getaway, Lazy Llama Campground has our highest recommendation. It truly is a unique and special place.
And what's a more appropriate book to read before bedtime after meeting some real life llamas than Llama Llama Red Pajama?
Save this post for later! Pin this post to your travel boards, just hover your image over the optimized photo below and click the button that pops up.