Our pals over at Peanut Butter & Co  sent us a package of their yummy flavored peanut butters for us to try, and they also offered to send a package to one of our readers!  Check out what we thought of each flavor as well as a fun recipe for no bake cookies, and then scroll all the way down to get the details on how you can win your own box of yummy!
Look at all of these fun flavors!

Dark chocolate.  With peanut butter.  I see no problem with this.
Dark Chocolate Dreams was just as I expected it to be - not too sweet, with the bitterness of the dark chocolate helping that balance.  The butter itself is smooth and I'm now going to slather this on anything and everything.  Could you imagine eating this with strawberries?  Or on a graham cracker?  Or on... anything?
Cinnamon Raisin Swirl sounded yummy to me from the beginning, but boy was I in for a surprise because...
It ended up being my absolute favorite!!  This stuff is amazing.  The cinnamon hits you at the end and there are small bits of chopped raisins generously sprinkled throughout.  This would be perfect on some warm toast in the morning, or slathered over pancakes or waffles.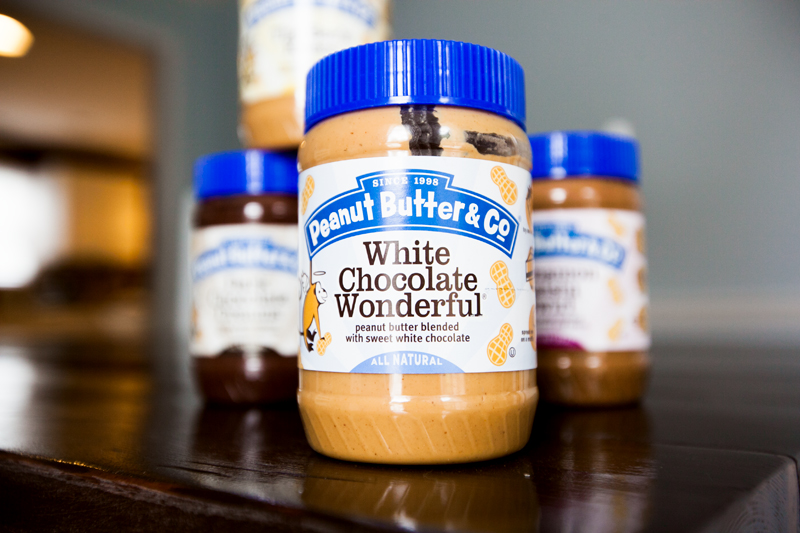 White chocolate is one of those polarizing foods - seems most people either love it or hate it.  Me?  I LOVE it.  White chocolate macadamia nut cookies are my spirit confection, but I'll eat it in just about any form.
White Chocolate Wonderful did not disappoint.  It had a sturdier texture than some of the other flavors and it was soo smooth.  Perfect for spreading and baking - make sure you check out the cookie recipe at the bottom of this post!
Here's a classic combination - peanut butter and honey!  Matt likes to drizzle a little honey on his peanut butter sandwiches, and I like doing the same, but spread onto a rice cake instead.  This stuff removes that extra step!
I was curious about the texture of this one - I thought it might be runnier than usual, but nope, it holds itself up just fine!  And I know I keep repeating myself about how these flavors are not overly sweet but I'm so impressed by that fact that I have to say it again, because it would be REALLY easy to excessively sweeten honeyed peanut butter.  Love The Bee's Knees!
This one is just begging to be spread over pancakes and waffles... that might have to happen this weekend.
Broken record here, but again, bravo for not being too sweet, Mighty Maple!  You get more of a pure maple flavor than sugar, and that gets an A-plus in my book.  Like The Bee's Knees, I was interested to check out the texture since it's being mixed with a thin syrup, but again, this one holds up well.
You really can't go wrong with any of the flavors I tried, I truly loved them all.  And though I'm always appreciative when a company is kind enough to send us products for us to review and share with all of you, we don't accept compensation in return for a totally positive review.  So, when I say that I am in LOVE with these peanut butters, you can trust that that's truly how I feel!
Now let's grab that White Chocolate Wonderful and make some easy cookies!!
If you've ever had Hob Knobs or any traditional chocolate no bake cookie that contains peanut butter and oatmeal, these are very similar and just as easy.  I thought it'd be fun to nix the cocoa that is typically found in such cookies and replace it with a flavored peanut butter instead.  I'm really happy with how they turned out!
Print
No Bake White Chocolate Peanut Butter Cookies
---
Author:

Total Time:

7 mins

Yield:

8

x8 pan of cookies

1

x
3 cups

uncooked oats

2 cups

sugar

1 cup

Peanut Butter & Co. White Chocolate Wonderful

½ cup

milk

¼ cup

butter

1 tsp

pure vanilla extract
---
Instructions
In a heavy bottom saucepan, add milk, sugar, and butter.
Bring to a boil, stirring constantly.
Once it has reached a boil that you can't stir down, continue boiling and stirring for one full minute.
Remove from heat and immediately add peanut butter and vanilla extract, stirring until the peanut butter is melted and mixture is creamy.
Stir in oats (mixture will start getting very thick)
Spread into an 8x8 pan sprayed lightly with cooking spray or drop by the spoonful onto wax paper. Allow to set up at room temperature or in the refrigerator until firm. Store leftovers at room temperature in sealed container.
Prep Time:

2 mins

Cook Time:

5 mins
Recipe Card powered by
GIVEAWAY!! GIVEAWAY!!
PEANUT BUTTER & CO. ASSORTMENT PRIZE PACK
Want to try these delicious peanut butters for yourself?  Peanut Butter & Co. has offered to send a box of deliciousness to one of our lucky readers!  This contest is open for our U.S. readers and will be open until 11:59 P.M. EST on September 22nd, 2014.
Here's how to enter:
Required: Comment on this blog post and let me know which flavor you think would be your favorite!
Optional entries to increase your chances of winning:  You MUST leave the additional comments to receive credit for each optional entry!
- Like Brownie Bites on Facebook.  Come back and leave an additional comment telling me you have done so or that you're already a follower.
- Like Peanut Butter & Co. on Facebook.  Come back and leave an additional comment telling me you have done so or that you're already a follower.
- Like @ebrowniebites on Instagram.  Come back and leave an additional comment telling me you have done so or that you're already a follower.
- Like @peanutbutterco on Instagram.  Come back and leave an additional comment telling me you have done so or that you're already a follower.
GOOD LUCK!!
As always, here's a handy image to use for Pinterest!  Just hover your mouse over the image and click the button!