We're just past the 38 week mark in our pregnancy and our nursery is almost complete!  I thought it was time to share what we've done so far with all of you.  Let's start with what this room looked like before.
I don't have any decent "before" photos since I remembered at the last minute to snap a few with my phone as we were already in the process of dismantling it.  This room used to be a guest room.  The furniture was random mismatched pieces we've inherited over the years, the crown moulding was uneven, and the dark green paint was just a terrible decision back when I knew very little about home decor or even what my own tastes were.
This room is one of two extra bedrooms we have upstairs in our house - the other one is being used as a workout room and is still utilized on a daily basis.  That fact combined with the fact that this room is a little bigger and has a pleasant northwestern-facing window led us to choose this one to use for our little boy's nursery.
Here is how it looks today!  This is the view standing near the door.  We didn't follow any specific theme, but we knew we wanted the space to feel peaceful, light, and airy, which led us to using grey and white as our main colors with yellow as an accent and a few other color pops here and there.
Matt ripped out the old crown moulding and replaced it, which also meant the ceiling needed to be repainted.  He put so much work into the foundation of this room, though sometimes I think he's even more excited about this baby than I am, so he's been a full on nesting daddy-to-be for this entire pregnancy!
Paint Color:  Benjamin Moore Gray Owl.  Our local Benjamin Moore was extremely helpful when deciding on the perfect grey paint for this room.  All I had to tell them was that my accent color was going to include soft yellows and I needed a grey that wouldn't look "icky" when paired with that color.  Gray Owl was the recommendation, and I adore it!
The wall above the crib is not quite finished yet - I plan on having some large canvas or standout prints made from Jasper's newborn photo session to fill that space.  My husband asked me oh-so-nicely to not plaster his name in huge letters over the crib, so I opted for a yellow "J" and some very small wooden letters spelling out his name in the corner.  I also plan to add one small print under that display to finish filling in that area.  I purchased the larger "J" from our local JoAnn and the smaller wooden letters from our local A.C. Moore  
This is my favorite section of the room, the nursing/reading/snuggling corner.  I love the color that the outward-facing books add to the room.  I found the curtains at Target, the small antique table at a local shop, Missy's Treasures, and the glider/recliner is the Little Castle Treasure chair from Buy Buy Baby.  It's so comfy and we were able to custom order our fabric and piping.  It glides and fully reclines, so if one of us needs to spend a night camped out in the nursery, we're good to go!
My sister, Amy, put together the cute balloon guest book seen in the top frame.  Our baby shower guests each signed a yellow or grey card stock circle, and then later we glued the "balloons" onto the card stock background and framed it.  In the lower frame, I found a corgi silhouette online and cut it out using yellow card stock, and then glued it onto a matching background.  You know I had to sneak a corgi into the nursery somewhere!! The white photo frames were purchased for 50% off at Hobby Lobby.  
The yellow and white pillow was found at Bed, Bath & Beyond (purchased with coupon).
The grey and white lamp was found at our local HomeGoods.
The beautiful grey and white afghan was knitted especially for Jasper by our very sweet friend, Kara. 
These shelves are the RIBBA floating picture shelves from IKEA, and they worked out perfectly!  We will eventually add a low bookshelf on the floor underneath these so we can store lots more books, but for now it is displaying Jasper's starter library quite nicely.
Here's a peek of the other side of the room looking back toward the door.  Future plans include a toy bin or toy storage solution of some kind between the closet doors and the entrance so to store the Maileg animals.
This canvas was purchased at Target, and while we typically shy away from including words and phrases in our home decor that don't have personal meaning to us, we both really loved and agreed with the messages here and thought it would be a perfect fit.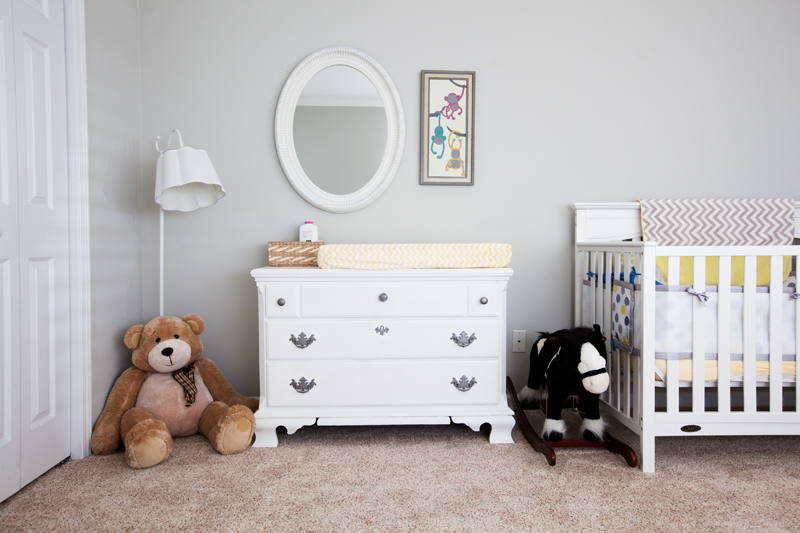 Does that dresser look familiar?  You can actually see it in its original state in the first photo of this post.  It's solid wood and sturdy and has been used for other babies in my family.  I've had it since my college years and decided to give it a face lift with a little Annie Sloan Chalk Paint.  The drawer pulls are original, but they were also given an upgrade with some Rust-Oleum Universal Flat Metallic  spray paint.
The floor lamp was originally found at Target, but we were browsing through Bargain Hunt one day and found the exact same one for ⅓ of the original price!  What a steal!
The oval mirror was purchased at our local HomeGoods.
The monkey print was found at Hobby Lobby for 50% off.
The small basket was found at JoAnn.
The changing pad and yellow chevron cover were shower gifts purchased from Buy Buy Baby (the cover is not currently available online, so no link available)
The giant teddy bear was a gift from Matt years ago.
The rocking horse was a fantastic deal I got on ½ Off Day at Jack and Jules. 
Most of our changing supplies are currently downstairs in the storage area of our Pack 'n Play, since Jasper will be rooming with us for a while before we transition him into his nursery.  We currently just have powder and wipes in the little basket, and a stash of diapers are being stored in the top dresser drawer.
Here is the inside of the closet.  Once again, my hubby did an amazing job bringing my ideas to life and maximizing the storage in this little space.  Originally, this closet just had a single hanging bar with a standard wire shelf running across the top.  He removed all of the original shelving and placed a KALLAX shelving unit from IKEA right in the center, and a regular white shelf from Lowe's all the way across the top. To maximize the amount of space available for hanging wee little clothes, he mounted four separate bars on either side of the shelf and then I stuffed them full of all of the clothes I've been collecting since the second trimester (and almost all of it was found through Facebook yard sale groups and consignment events in like-new condition!).  I have a seasonally-appropriate wardrobe from newborn to 12 months, and some of the bigger clothes are being stored in bins on the top shelf.   The center shelf is being used for onesies organized by size, pajamas, and sleepers!  The top shelf contains a bunch of receiving blankets and burp clothes as well as an extra stash of diapers and wipes.  Our Fisher-Price Rainforest bouncy seat and swing are currently being stored in here, but they'll come out as soon as the little man is here and ready to use them!
The crib is the Graco Hayden 4-in-1 Convertible Fixed Side Crib.  No link for this one because it seems like most cribs we looked at go in and out of stock from many different retailers faster than you can blink an eye - I felt lucky that we actually found one we were able to order, and this one was one of many that we liked.  It seems like cribs are so hard to find nowadays!  Regardless, we've been happy with this one so far, so we'll see how it does when there's an actual baby in there to use it.
Note: I'm aware that all loose items and blankets will need to be removed before there is an actual sleeping babe in here. 🙂
Both blankets and the yellow fitted sheet were registry gifts from Target, as well as the BreathableBaby Mesh Crib Liner.  The pillow is what we are calling our "upstairs Boppy", since we thought it would be helpful to have one that stays upstairs and one that stays down!  The other one is chilling out in the Pack 'n Play.
The Fisher Price piano foot toy thingy (sorry, I don't know the actual name of it) was another Jack and Jules find!
Instead of a mobile, we opted for the Fisher Price Rainforest Waterfall Peek-a-Boo Crib Soother.  It's awesome!  Heck, I like watching and listening to this thing, so I hope Jasper likes it as well.  Judging by how the dogs react to it, it's certainly corgi approved!
Our crib mattress is the Simmons Kids Slumber Time Naturally Mattress.
The original light fixture in this room was an ugly, droopy ceiling fan.  We were redecorating our dining room at the same time as this room, and we had an old brass 2-tier chandelier that we no longer needed.  Instead of buying a new light for the nursery, we chopped off the bottom tier of the original light and spray-painted it white.  It ended up being perfect!
One more little detail that needs to be fixed up is that saggy curtain!  I extended the rod to make the window appear wider, but now it sags just a tad in the middle... just enough to annoy me. 🙂  So we'll be adding a third bracket to the center to fix that!
Basically, all I can think about these days is the baby.  He's so close to being here and all I want to do is sit in the nursery and daydream about having a warm little bundle to snuggle and love.  Now that I'm full-term and birth center qualified, we may be looking into some  "home remedies" for naturally inducing labor, because I am equally ready to be UN-PREGNANT as I am happy about meeting our baby!  These last weeks are not easy!
We finally got around to taking some maternity photos this past weekend, so I will share just a couple for now.  This was one of my favorites of me sitting in the glider at 38 weeks.
And of course I had to include Dexter and Dewey in one!  Me with three of my sweet boys... the fourth one was behind the camera. 🙂
And just a classic half-silhouetted belly shot.