So, did this flavor sneak up on anyone else?  I was just be-bopping along thinking that S'mores was going to be the sole summery Oreo, then bam, outta nowhere these Key Lime Pie babies hit the shelves.  I have to wonder if these were an eleventh hour decision.  They use the same graham cookie that was introduced with the S'mores flavor and the lime filling is being compared to the Limeade Oreos.  Maybe the folks at Nabisco realized they had a surplus of graham and lime ingredients and thought, "Hey, let's just smosh these two things together and bam, we've got Key Lime Pie!  Brill!"
But for discerning bloggers like myself that hold limited edition Oreos to a very high standard, I purchased this variety expecting Dexter levels of Key lime perfection.
"You've finally brought me the perfect Key lime pie." 
Ripping open the package I got hit with the smell of uber-sweet artificial lime and... Golden Oreos.  Sigh.  You guys know from my S'mores Oreo review that I was really hoping for a nice strong graham flavor in the new cookie.  I was underwhelmed with the graham cookie in the S'mores Oreos and was hoping that maybe, just maybe, they'd kick it up a notch for Key Lime Pie.  But so far, the smell wasn't convincing me.  But I do have to say that these still smelled good - fresh and citrusy and summery.  I was excited to take a bite.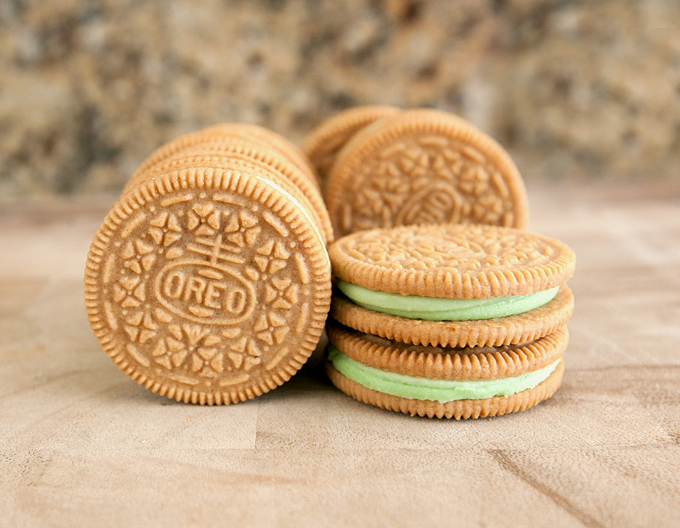 Let's talk about the color of the filling.  I know that lime green is what comes to mind when one thinks of, you know, lime, but I need to point out that authentic Key lime pie is not green at all, oh no.  A real Key lime pie is actually pale yellow in color.  So if you ever find yourself on the hunt for some legit traditional Key lime pie and you spot one with electric green filling, keep movin'.
But I totally get that the masses are going to expect to see green when dealing with anything labeled as "lime", so I'll give ya a pass on this one, Oreo.
I started with the twist test - the two sides separated easily with just a teeny bit of filling shrapnel on the cookie side.  I nibbled at the cookie by itself and unfortunately, though as I expected, I tasted the same graham cookie found in the S'mores flavor.  I then nipped at just the filling by itself.  There's a bit of tartness from the lime but overall it's just really, really sugary.  I've heard Key Lime Pie Oreos being compared to the Limeade Oreos and I think that's a fair statement.  The filling works as a sweet limeade, but this is supposed to be Key lime pie, people, I want that bold, tangy-sour lime flavor sockin' me in the face, maybe some whipped cream undertones with the whole shebang mellowed out by a great graham taste.
Next I reassembled the Oreo and took a bite like God intended - both the cookie and filling together.  The graham cookie sorta overwhelmed the lime and squelched the citrus bite even more, but you know what?  I really liked these.  Are they accurate as a Key lime pie flavored cookie?  Eh, not really.  But are they tasty?  Absolutely.  In fact, they are the first limited edition Oreo flavor that have made me want to buy a second package, and that hasn't happened since the Red Velvet Oreos hit shelves last winter.
If you want to learn how to make a really really real Key lime pie, I have an easy recipe that will not disappoint.  Click right here to be taken to the post!