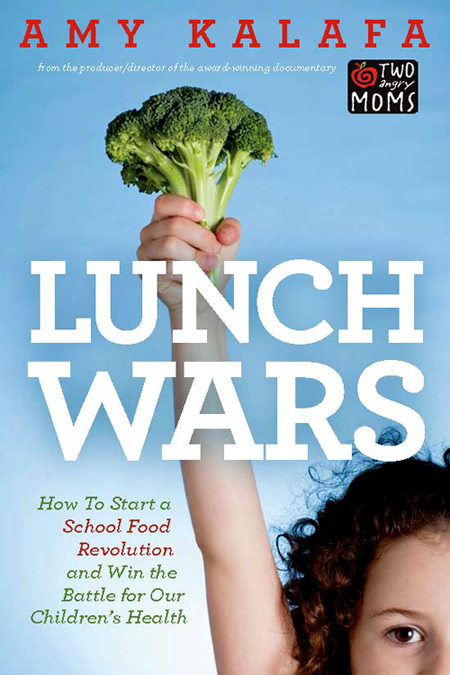 I recently finished Lunch Wars by Amy Kalafa.   I don't have children, but I am extremely passionate about  eating real, clean food and limiting the amount of processed, pre-packaged junk that goes into our bodies.  We are a nation of sick, allergic, over-medicated, and overweight people and so much of it is caused by the quality of the foods in our diet.  In my case, I was well into adulthood before I got a handle on how to properly feed myself and my husband.  Making simple but fundamental changes to our day to day eating habits has resulted in both of us shedding our extra pounds, having more energy, and more mental focus.  That's not to say that we don't indulge every now and then.  You all are familiar with our Sinful Sunday tradition.  While it does scratch an itch for the lingering cravings we have for starchy, sugary, processed food, what we can't ignore is how we feel after eating such a meal.  We feel foggy, tired, bogged down, and lazy.  All fine for a leisurely Sunday afternoon, but it puts into perspective just how big a role that food plays into our day to day performance in both our professional and personal lives.  By the time Monday rolls around, we are so ready to get back to eating clean foods and de-tox.
But does that mean we're ready to give up our Sinful Sundays?  Ha, don't bet on it.
Anyway.  Back to the book.  Kids often don't have a choice in the foods that they eat.  They're at the mercy of what their parents stock the pantry with at home, and what the cafeteria is serving at school.  Lunch Wars addresses stories from across the nation and exposes some shocking truths about what our kids are being given every single day.  Aside from the obvious offerings such as Pop-tarts, cookies, sugared soda, and potato chips, even the hot meals being touted as "fresh cooked" are using preserved, freeze-dried, and frozen ingredients with a list of chemicals as long as my arm.  Kalafa goes on a mission to reform lunchroom standards by pushing for the removal of unhealthy choices and replacing them with wholesome real food.  I appreciated that she wasn't trying to press some weird fad diet onto the schools.  Alongside the obvious fresh fruits and vegetables were french toast and lasagna being added to school menus - the difference was that frozen and pre-packaged "hot meals" were now being cooked from scratch, using healthier ingredients like whole wheat pastas and breads, fresh tomato sauce, etc.  The book chronicles the financial and logistical challenges of stocking cafeterias with locally-grown ingredients, as well as training the staff to learn how to actually cook, instead of popping a bunch of frozen chunks of meat into the microwave.
While I agreed with most of the points made in the book, I did think that Kalafa and the mothers she interviewed did go a bit too far at times in what they were asking for the schools to do.  In areas where major changes in the lunchroom were implemented, the book still "warned" of trace chemicals, pesticides, etc that might still be present in the fresh, local ingredients.   After such significant victories in improving the quality of school-provided food, there's still nitpicking to be done?  That was my only major gripe with Lunch Wars.  I enjoyed reading through the extensive information that must have taken years of research to gather together, and learned quite a bit about food production and distribution.
Whether you're a mom concerned about the quality of food your child is getting at school, or just someone like me who is passionate about clean eating and healthy living, you might enjoy giving this one a read.
Disclosure:  This was a sponsored review for www.BlogHer.com.  The opinions expressed are, as always, my own.  Read more about what people are saying about Lunch Wars at http://www.blogher.com/bookclub/now-reading-lunch-wars