Pssst..  wanna know a secret?
I love cake.
Like.. I really, really, really love cake.  Having sampled a countless number of them (I have worked in the wedding industry for over 7 years, you know) in my lifetime, I admit to being a bit of a snob about texture and flavor.   To me, a perfect cake should be light, tender, flavorful and melt-in-your-mouth moist.
As with most things, that doesn't always happen.  It's a real bummer when a recipe I was excited about comes out dry and/or flavorless.. but let's face it, sometimes it happens, and that sad fact inspired an ongoing personal project to build an arsenal of reliable and delicious cake (specifically, cupcake) recipes.
Let's start with the vanilla cake... one of the most basic cake recipes, and my all-time favorite.  It's simple and if done right, can be absolutely delicious all on its own (after being slathered in an equally delicious frosting, that is).
I wanted to do a side by side comparison of three very different recipes.  Here are the ones I chose:
Contestant #1:  Perfect Vanilla Cupcakes by Glorious Treats
Contestant #2: Billy's Vanilla, Vanilla Cupcakes
Contestant #3: Moist Vanilla Cupcake - my "textbook" contestant.. a very common recipe/technique.

I chose these three recipes based on the fact that they all have very different ingredient lists, as well as different techniques.  One main difference between the recipes was the type of flour used.
Glorious Treats:  Uses only cake flour
Billy's:  Uses a mixture of all-purpose and cake flours
Textbook: Uses only all-purpose flour
Something else I noticed was the lack of butter in the Glorious Treats recipe.  It seems to mimic what would be included in a typical box mix (eggs and oil).  I'll admit, box mixes can be great if you need a quick moist cake, so I was intrigued to try that one out.
Alright.. so let's throw down!
Contestant #1 - Glorious Treats - GO!
The technique for this recipe is fairly basic - beating the eggs with the sugar (because there is no butter), adding the rest of the wet ingredients, and then slowly incorporating the dry.  Here's what they looked like..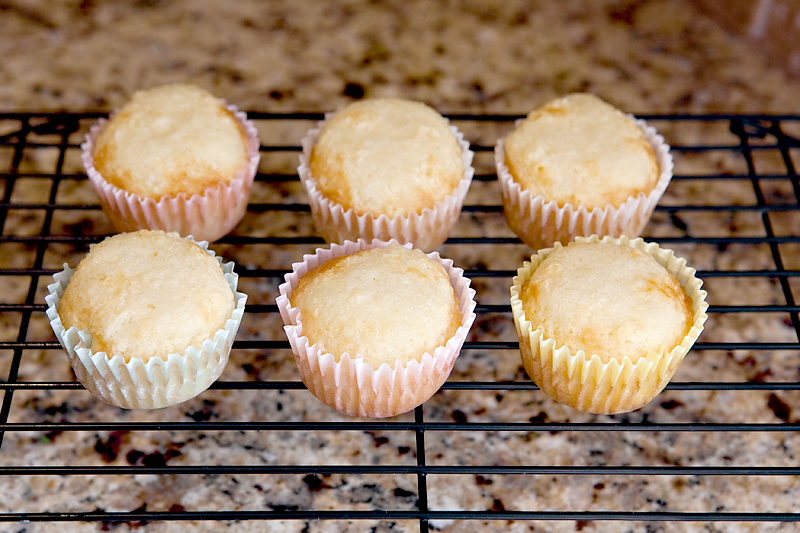 I sat in front of the oven for most of the baking process so I could babysit them and make sure they didn't overbake.  I noticed that the tops of the cupcakes were very bubbly, sometimes bursting and causing some lopsided lumps.

The crumb looked great, but I noticed it was a big spongy when pulling it apart.  Upon taste-testing, it really was a moist cake.  I thought it could use a tad more vanilla flavor, and Matt and I both described the texture as "bouncy".  Not quite as sponge-y as an angel food cake, but definitely a bit tougher than I typically enjoy.
Contestant #2 - Billy's Vanilla Vanilla - GO!
I couldn't wait to see how these turned out, because it employs a rather backwards technique than what I'm used to.  Instead of creaming the butter and the sugar together first, this recipe has you beat diced butter directly into the dry ingredients first, and then add the rest of the wet ingredients at the end.   The batter was thinner and messier to scoop into the tins.  I like to use an ice cream scoop to fill cupcake liners, but with this, I found it easier to use a big spoon and let the batter drizzle into the compartments.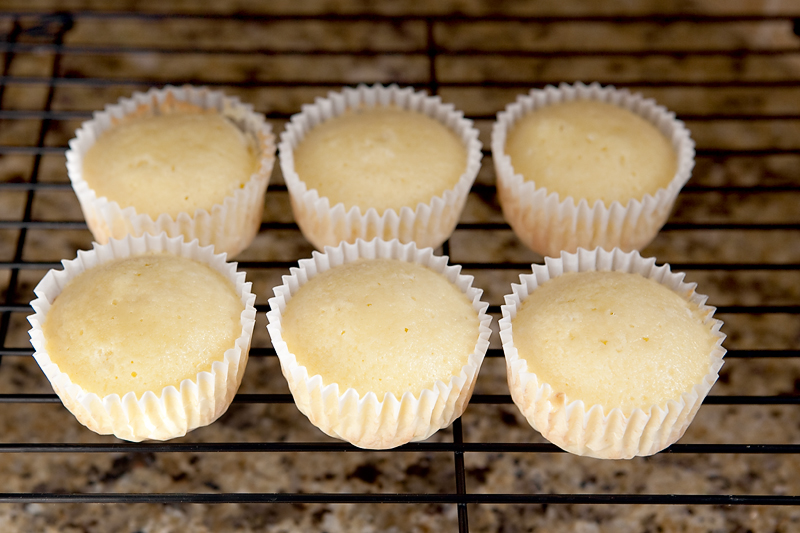 Ooh.. these look promising!  Notice that I took them out of the oven before they started to turn golden.  Trust me, they were done.  That toothpick came out clean as a whistle.  I fear they would have dried out quite a bit if I left them in there long enough to get a golden top.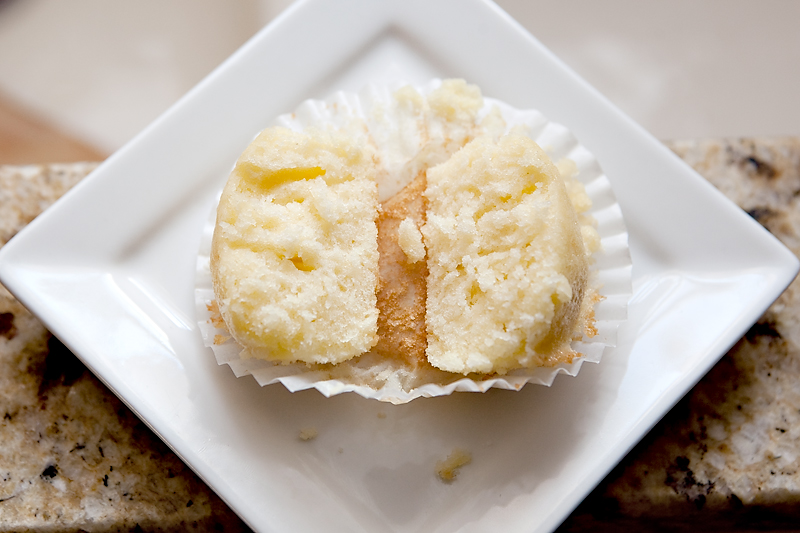 After ripping into one of them, I was even more excited.  They were sooo moist and easy to pull apart.  They looked so tender!   The taste was amazing.  Matt and I took a bite at the same time and both exploded into a chorus of "Mmmm!"  The vanilla flavor was strong, the cake light and moist, and the texture was perfection.
Contestant #3 - Textbook Cupcake - GO!
As I mentioned above, I'm calling this one the "textbook" cupcake because it's such a typical recipe and technique.  All-purpose flour, butter, etc.   Cream the butter and the sugar together first, and then alternately add the dry and remaining wet ingredients.  Done.  Here's the result..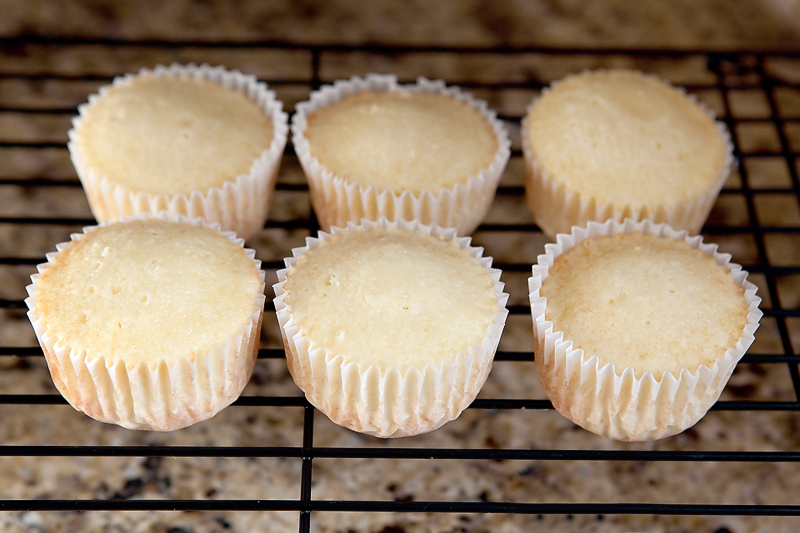 These also needed to come out of the oven before they became golden.  I filled the liners a bit more than the previous recipes, but they had nice low rounded tops.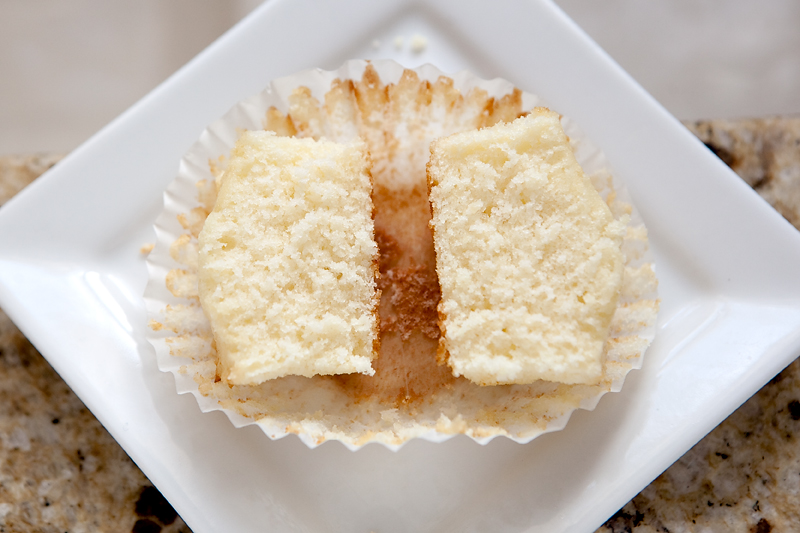 This one had a gorgeous crumb.  The cake held together nicely when I cut into it, but it was still moist, light, and tender.  The flavor was delicious, but we noticed that it was juust a tad chalkier (stick-to-your-mouth-y, to get all technical on you) than the Billy's version.  A delicious cupcake, to be sure, but trying this one right after the perfection that was Billy's.. it was no contest.
So there you have it.. Billy's Vanilla Vanilla was by far the winner of this throwdown, and will be my "go to" vanilla cupcake recipe from now on.
Print
Billy's Vanilla Vanilla Cupcakes
---
Author:

Yield:

30

cupcakes

1

x
1 ¾ cups

cake flour, not self-rising

1 ¼ cups

unbleached all-purpose flour

2 cups

sugar

1 tablespoon

baking powder

¾ teaspoon

salt

1 cup

(

2

sticks) unsalted butter, cut into 1-inch cubes

4

large eggs

1 cup

whole milk

1 teaspoon

pure vanilla extract
---
Instructions
Preheat oven to 325°.
Line cupcake pans with paper liners.
In the bowl of an electric mixer, combine flours, sugar, baking powder, and salt; mix on low speed until combined.
Add the diced butter, mixing until just coated with flour.
In a large glass measuring cup, whisk together eggs, milk, and vanilla.
With mixer set to medium speed, add wet ingredients in 3 parts, scraping the bowl with a non-stick spatula as needed.
Only mix until ingredients are just incorporated - do not over beat.
Fill cupcake liners with batter, about ⅔ full.
Bake about 17 to 20 minutes (your oven may vary!) or until a toothpick comes out clean. Cupcakes may not be golden.
Transfer immediately to a wire rack to cool completely.
Serve at room temperature.
Recipe Card powered by