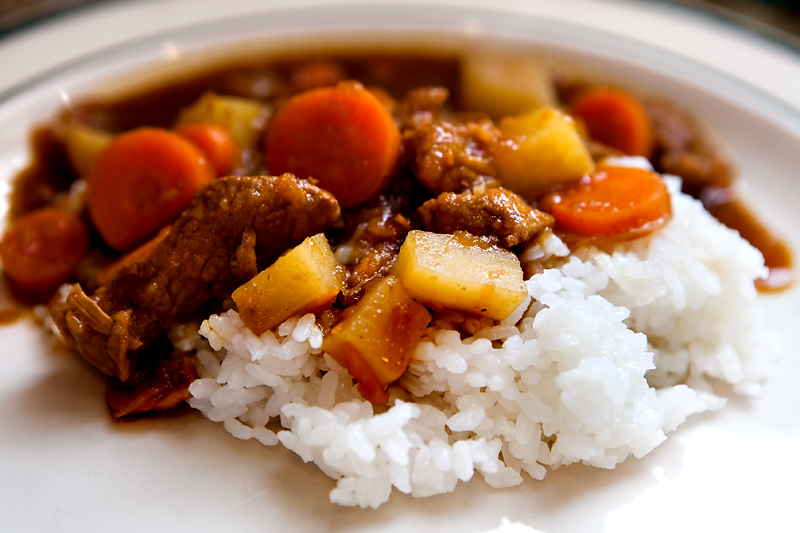 Japanese Beef Curry
This stuff will blow the socks right off of your feet.  An explosion of flavor, this dish is not for those who enjoy only bland food.  This is an absolutely delicious recipe, and I insist that you make it tonight.  Actually, why wait until tonight?  Go to the store right now and buy the ingredients.  Then come home and get to cookin'.  Then eat the entire thing.  Then come back and tell me it was the best thing you've ever made!
What You'll Need:
1 tablespoon oil
1 pound beef, cut into small chunks
2 onions, chopped
1 grated sweet potato
beef broth
2 carrots, cut into medallions
2 potatoes, cut into small pieces
1 grated apple (sweet)
1 tablespoon honey
1 box Japanese curry roux (I use Java Curry brand)
What You'll Do
In a large pot, heat the oil and then brown the beef pieces.  Set aside.  Saute onions until soft and translucent.  Return the beef to the pot and cover with beef broth.  Bring to a boil, then reduce to a simmer and cover for 2-3 hours until the beef is tender and fall-aparty and wonderful.  Add carrots, potatoes, apple, honey, and curry roux.  Cover with more beef broth.   Stir until the roux is completely dissolved and incorporated into the mixture.   Return to a boil and then lower to a simmer and let cook until the vegetables are tender (20-30 minutes).  Serve over a bed of steamed rice.
A little trick: You can make this sauce without the beef, and then serve over fried pork cutlets and rice.  This changes the name of the dish to katsu kare.  We've done it both ways and they are both equally delicious!
Are you convinced yet?  Get to work!!  Oh, and a little bonus.  This recipe makes a ton of curry, but it freezes beautifully.  Save what you don't eat, freeze into a ziploc bag, and then when you're ready to use it again, tear the bag off from around the sauce, throw it into a pan, and heat it up!  Easy Peasy.