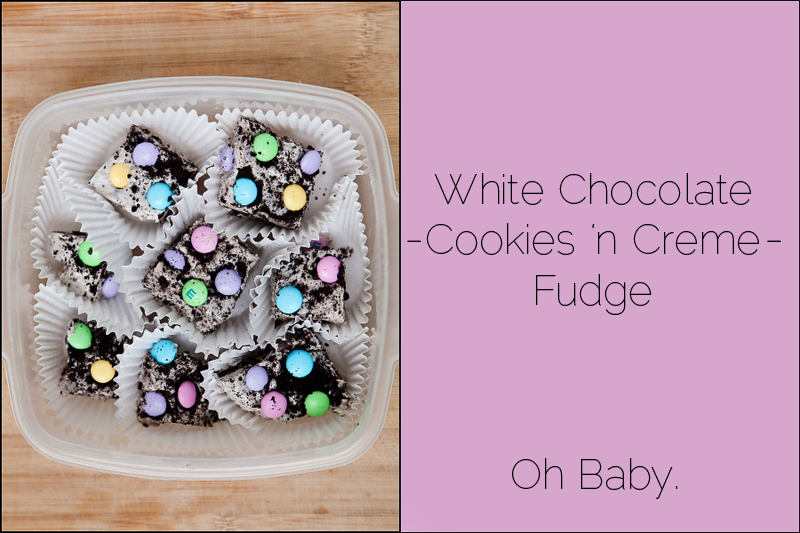 This is an easy and rich fudge that will remind you of the filling in Oreo cookies.  The fudge gets some extra crunch from crushed Oreos right in the fudge mixture and sprinkled on top.  Decorate with pretty pastel candies or sprinkles and you'll have a perfect Spring treat.  You'll be everyone's favorite person after they take a bite.. trust me.
What do I Need To Make This Fudge?
Evaporated milk - milk that has been cooked to reduce its water content.  It can be cooked to high temperatures without curdling, which is essential for fudge.  Don't confuse this with sweetened condensed milk!
Marshmallow creme - adds structure to the fudge.  Make sure you're using creme and not fluff, which is a different product.
White chocolate chips - for flavor and creamy texture.  You can also use 12oz of a white chocolate bar or almond bark.
Butter and Sugar - You can use salted or unsalted, but if using the former omit the pinch of salt in the recipe.  I kept the sugar low as this fudge already has plenty of sweetness from the other ingredients.
Chocolate sandwich cookies - Oreos are the gold standard here, but you can use any similar type of cookie you want.
Vanilla extract - just a bit, used a flavor enhancer.
Colored candies or sprinkles - you don't have to add these as the crumbled cookies on top look pretty by themselves, but you can add any colors you want to match any holiday or event.  I used pastel colors for Easter!
Do I Need A Candy Thermometer?
You don't have to use a candy thermometer, but I find that it's a lot easier to make sure the fudge is cooked hot enough and long enough to properly set up if you use one.  A simple pot clip thermometer is all you need to make sure your fudge mixture is cooked to the perfect temperature.
If you don't have a candy thermometer, make sure the fudge is at a full boil for a solid 3-4 minutes before removing it from the heat, and do a soft ball test by dropping a small bit of the mixture into a bowl of cool water.  If you're able to form a ball with your fingers in the water, it's ready to go.  If the mixture disintegrates, it needs to be cooked longer.
How Long Does It Need To Chill?
I recommend at least 2 hours in the refrigerator before attempting to remove the fudge from the pan.  Or you can prepare the fudge in the evening and slice it up the next morning.  Let the fudge come to room temperature on the counter before placing it into the fridge.  Cooling the fudge too quickly can alter the texture of the creamy fudge base.

How Do I Store The Fudge?
In a cool environment, the fudge can be kept at room temperature either wrapped up or in an airtight container.  If you're kitchen stays warm or if the days are humid, you can keep it in the refrigerator to keep it firm.
You can freeze the prepared fudge by slicing it as desired, wrap each piece tightly in plastic wrap, and place the wrapped pieces into a freezer-safe storage bag.

I put my squares in paper cupcake liners and set them into tupperware containers. I liked how it looked!
Print
Cookies and Cream Fudge
---
Description
A decadent white chocolate fudge full of crushed and crumbled Oreo cookies and topped with festive candies.  The fudge base tastes like the filling in an Oreo cookie!
---
¾ cup

sugar

¾ cup

unsalted butter

1

small can (

5oz

) evaporated milk

1

(12-oz.) package white chocolate chips

1

(7-oz.) jar marshmallow cream

1 cup

crushed chocolate sandwich cookies (Oreo or similar)

½ cup

coarsely crumbled chocolate sandwich cookies (Oreo or similar)

½ tsp

vanilla extract
Pinch of salt
Pastel candies or sprinkles for decorating, optional
---
Instructions
Line a 9" square pan or tupperware with aluminum foil or wax paper and set aside.
Combine first 3 ingredients in a heavy saucepan.  Place a small bowl of cold water next to the stove.
Cook over medium-high heat, stirring constantly, until mixture comes to a full boil.  Fit the pan with a candy thermometer.
Continue boiling for 3-4 minutes, stirring constantly, or until the mixture reaches soft ball temperature: 235 - 245F
Test for soft-ball stage by spooning out a small bit of the fudge mixture and dropping it into the cool water.  Wait a moment and then try to form the mixture into a ball with your fingers and pick it up.  If it dissolves or disintegrates into the water, it needs to cook a bit more.
Once soft ball  as been reached, remove from heat.
 Add white chocolate chips, marshmallow cream, the 1 cup of crushed cookies, vanilla extract, and pinch of salt.
Stir with nonstick spatula until the chips melt and the mixture is smooth, scraping down the sides as needed.
Pour liquid fudge into prepared pan. Allow to cool for a few minutes, and then top with remaining cookie chunks and pastel candy (if using) and gently press toppings into fudge.
Allow to cool to room temperature on the counter.
Cover and chill until firm, at least 2 hours though it may take longer.
Lift fudge from pan by grasping the foil or paper, peel down the edges, and cut into squares using a sharp knife that's been held under hot water.
Notes
If you use salted butter, omit the extra pinch of salt
Recipe Card powered by
Pin this recipe for later!
Some Other Easter Posts:

Hot Cross Buns – made with cinnamon roll dough!
Glazed Vanilla Buttermilk Cookies – Oh so soft and not too sweet!
Chocolate Pretzel Bird Nests – A fun food craft for the kiddos!
Koulourakia - Greek Easter Cookies