Going to Greek Fest Knoxville has become a yearly tradition for us.  We've been attending the festival since well before we had kiddos and we consider it our official kick-off to the fall season.  We look forward to each September when we visit St. George Greek Orthodox Church, eat fantastic food, listen to festive Greek music and enjoy the atmosphere.
See past Greek Fest posts on Brownie Bites
This guy is ready for his 3rd Greek Fest, just a month before turning 3 years old.
You could consider this Shelby's 1st or 2nd festival - last year she was still in my tummy.
We arrived early because someone *cough*me*cough* misread the schedule.  So we had some time to kill sitting on the front steps of the church.
Jasper was generous with the kisses to help us keep Baby Sister occupied.
Once inside, I couldn't resist the massive griddle full of fragrant sizzling onions and peppers, so for my main dish I chose Chicken in a Pita, topped with those delicious onions and peppers, tomato, lettuce, and tzatziki sauce.  The chicken was juicy and perfectly seasoned.
Matt ordered the gyro with slices of seasoned beef and lamb topped with tomatoes and onions and tzatsiki.  This is a dish he's ordered before and the meat is always delicious.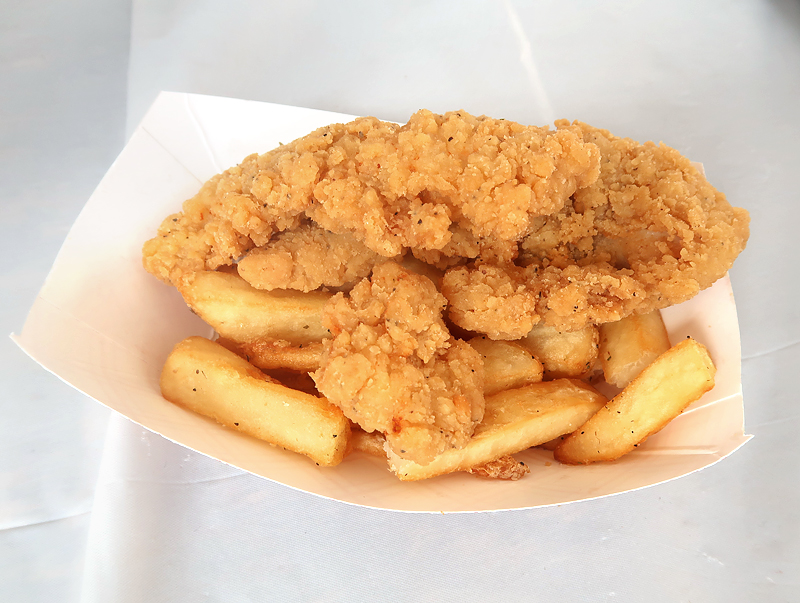 Jasper got a kids meal of chicken tenders and Greek fries!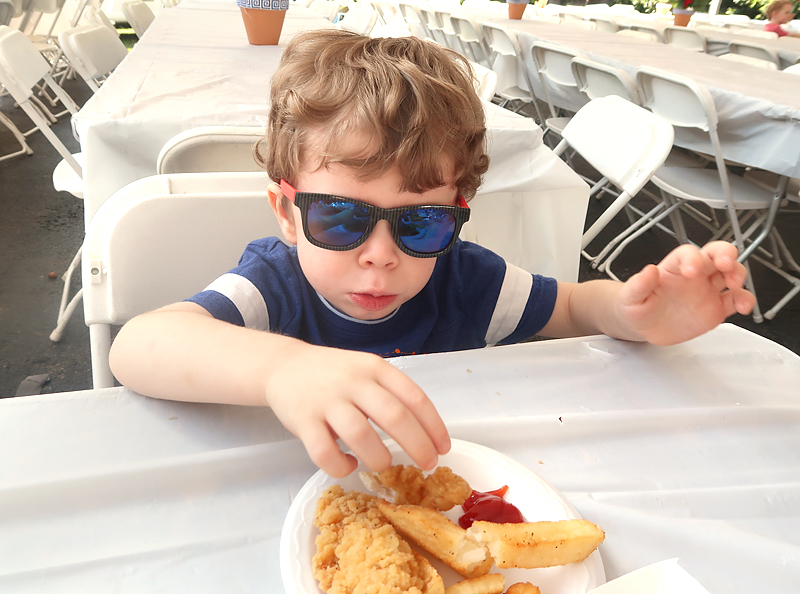 He was starving so he sat down and chowed down with no complaints.
We got him a Greek juice box to try!

He's a super cool dude.

Pastichio, or Greek lasagna,  is another annual favorite of ours.  The hit of cinnamon in the seasonings is my favorite part.

Tiropita was a new menu item this year, and boy was it tasty.  It is made of layers of golden baked phyllo filled with a mixture of butter, eggs, and several Greek cheeses.  Yum, yum, YUM!
No Greek food for this one just yet.  Maybe next year?
This is EkMek, a chilled layered dessert with a shredded phyllo (kataifi) base, thick creamy custard, and topped with whipped cream, chopped pistachios, and a sprinkle of cinnamon.  And a cherry, of course.  It was pretty amazing, especially when you dig way down to the bottom to get the perfect bite containing equal amounts of each layer.  Oh yeah.
The last thing we did was stop by the pastry tables and pick up gifts for family as well as a few things to take home for ourselves.  This is a finikia, a cookie made with orange juice and rolled in sugar, cinnamon, and crushed walnuts.
This was my favorite pastry this year - chocolate flogeres, or phyllo rolled up with a sweet mixture of crushed nuts and drizzled with chocolate.  If you love baklava, then you would love flogeres.
This is a Greek Christmas cookie, or kourambiedes.  They are crumbly, nutty butter cookies rolled in powdered sugar.
Lastly, I had to grab a bag of koulourakia, an extremely popular Greek cookie.  They taste like crunchy little butter cookies and they're typically twisted into the shape shown above.  Sometimes the dough is lightly flavored with citrus juice and other times the cookies are rolled in either coarse sugar or sesame seeds before baking.  I've made them on this blog before and they're very simple to make at home.  They're great dipped in your morning coffee and perfect for the kiddos with their mild flavor.
Another GreekFest is in the books, and that means it's officially fall!  Bring on all the things - pumpkins, apple cinnamon, Halloween, sweaters, crackling fires, crunching leaves, and about a hundred other things that make this season so wonderful.
What's your favorite part about fall?!