If you're wondering where to find a corn maze, hay ride, and other fall fun within easy driving distance of Knoxville, Tennessee, look no further than Oakes Farm in Corryton.  We spent a beautiful Saturday at the farm and were extremely impressed with how many different things there were to do for kids of all ages.  We had a fantastic time and I hope after reading our experience you'll want to bring your own family for a visit!
HOW TO GET TO OAKES FARM & INFO
Address: 8240 Corryton Road in Corryton, TN, 37721
Website: http://www.oakesfarm.com
Phone: 865.688.6200
Email: [email protected]
Admission: Ages 2 and under: Free.  Ages 3-10: $9.95.  Ages 11 and up: $11.95.  Add pumpkins for $5.50 each.
There are two ways to get there:
Take the Knoxville Center exit (Exit 8) off I-640.
Go north on Washington Pike 10 miles.
Turn left onto Corryton Road, go 2.3 miles, and the farm is on the right.
OR
Take I-40 to the Rutledge Pike exit (exit 392)
Go right (north) 8 miles and turn left onto Roberts Road.
The 2nd stop sign is Washington Pike.
Turn right and go 3 miles.
Turn left onto Corryton Road, go 2.3 miles, and the farm is on the right.
WHEN IS OAKES FARM OPEN?
Hours and days vary.  Click here for the schedule for the 2017 season.
AVAILABLE ACTIVITIES
Per the www.oakesfarm.com website:
Farm Monster Mystery
The Corn Box
Critter Corral Animal Exhibit
Face Painting
Fairy Tale Trail Kid's Maze
Hay Maze
Hippity Hop Horses
The Jumping Pillow
The Mine Shaft Giant Slide
Pedal Karts
The Mighty Pumpkin Pounder
Punchin' Pumpkins Maze Race
Quad Slides
Tug of war
Giant Sand Play Area
Steer Roping
Tire Mountain Play Area
Tire Swings
Jr. Speedway
Corn Hole Bean Bag Toss
Giant Checkers & Tic Tac Toe
Jump Pad
Seek & Find
Spiderweb Crawl
Tetherball
The Mound
FOOD AT OAKES FARM
The Farmers Grill, located near the entrance, has many basic concession stand offerings such as hamburgers, hot dogs, fries, soda and tea, etc.  Pappy's Fry Shack has fried offerings like corn dogs, chicken nuggets, fried mac 'n cheese, funnel cake fries, cheese sticks, and fried green tomatoes.  Grammy's Sweets & Treats has many flavors of homemade fudge (you can taste before you buy!), snack mixes, chocolate dipped Oreos and Krispies Treats, ice cream, and more.  There are also a couple of snack stands with items such as kettle corn and puffed caramel corn.
OUR EXPERIENCE AT OAKES FARM
We arrived just before noon on a sunny Saturday in late September.  The farm was easy to find and we had no trouble parking at the front of the property.
After picking up our tickets we passed through the main barn and adorable shop filled with gifts and crafts.
There was this cute sign advertising just a few of the many activities that were available.  We didn't know where to start!
Jasper wasn't yet aware of all of the fun that waited for him - he was just excited about seeing so many pumpkins everywhere!  We've been teaching him fall and Halloween vocabulary words so that he can make associations and have more fun during our family outings this season and it's made a huge difference in how engaged he is.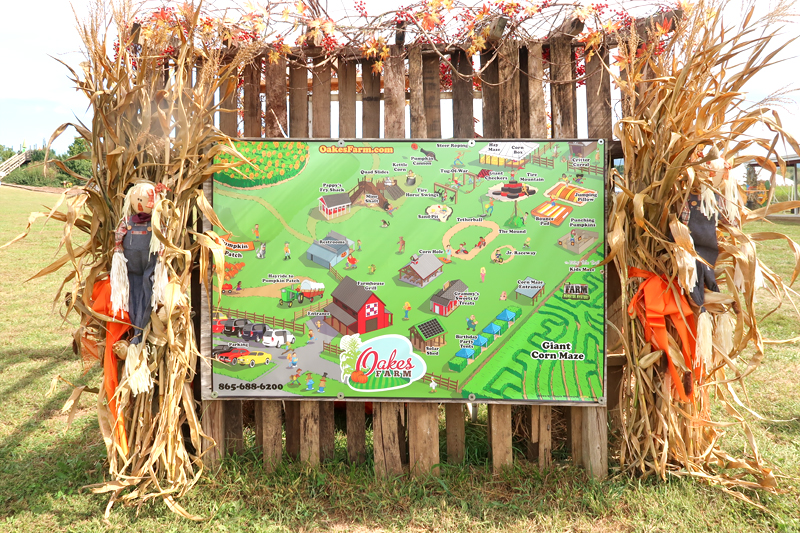 The activities are spread around a giant and mostly flat field - it was easy to see where everything was and it never felt crowded or cramped - lots of room to spread out and safe for the kiddos to run around and play.
Jasper spotted the giant sand pit jumped right in.  He kept insisting that it was snow!
The sand pit is full of lots of plastic toys, buckets, and digging tools that the kids can use.  This is a great activity for the younger kiddos - even Shelby had a blast!
Matt and I took a seat on a bench surrounding the pit and settled in... we knew it'd be a while before we'd be able to drag Jasper away from this place.
She had soooo much fun.  The sand pit is huge and there's plenty of room for lots of kids to be in it at once and not crowd each other.  Jasper got excited when he saw that Matt had placed Shelby into the sand and exclaimed, "Baby Sister wants to play, too!!"
"Dig a BIIIIIG hole!"
There are two of these massive jump pads.  We made a valiant effort to get Jasper to try one, but nope, not happening this year!
But when we approached the Critter Corral, we knew we found another winner.  A few weeks ago we were at a zoo in Limestone, TN where Jasper got to pet and feed some goats and he has not stopped talking about it since.  When he saw the animals he got so excited! I purchased a cup of animal feed for 50 cents and we were in business.  He's very gentle with the animals and he is fearless.
The gaps in the fencing allowed the animals to poke their heads through lower to the ground so that younger kids can easily reach to feed them.
This sweetie was so very gentle when nibbling the food from our palms.  Shelby chuckled at him.
Surprisingly, the chickens and roosters were Jasper's favorite.  Chickens don't exactly know how to be gentle when pecking at their food, but he didn't even care when he got pecked, he just laughed!  His favorite was letting them peck-peck-peck into the little cup of feed while saying, "Here, chicken chicken!"
Once the food was gone we washed and sanitized our hands before moving onto the next thing.  There is a washing station available as well as pump bottles of sanitizer located near the entrance to the corral.
Snack time!  Jasper had unfortunately gotten car sick on the way to the farm, which resulted in an unexpected detour to the nearest Walmart to pick him up a cheap outfit to get him through the rest of the day.  So, since his breakfast was on his dirty clothes in a plastic bag in the back of our car, he was starving!  We grabbed a bag of kettle corn and copped a squat in the shade of a small tree.  I found the kettle corn to be a little too sweet for my preference, but Jasper loved it and chowed down.
There are two dirt tracks with pedal carts, and one is targeted at the younger kiddos with these adorable John Deere tractors.  Jasper needed a little help pedaling over the bumpy dirt but he loved the track and wanted to go around and around and around and around.... and around.
Next it was time for the main event - the corn maze!  If you've been looking for a corn maze near Knoxville, this is one to visit!  Each year, Oakes Farm has a new design cut into the maze (here's some info)  The entire maze is 9 acres and is split into 3 separate sections.  The biggest section is just under 3 miles and the shortest is about a third of a mile.
There are two "games" you can play while traipsing your way through the corn.  First is a checkpoint collection game where you find 12 checkpoints hidden in the maze and punch a ticket when you find each one.  Second is the Farm Monster Mystery where you collect hidden images and clues to find out which monster has kidnapped Boots the Dog.
The short maze section for the kiddos has a fairy tale that is told through a series of charming signs along the paths.  Though Matt and I were dying to dive into the big maze and get ourselves good 'n lost, we knew that wouldn't be such an enjoyable experience with an impatient toddler in tow, so we opted for the short maze.
At first, Jasper was a bit fearful about entering the maze, but once we got him inside and he saw that there's really nothing scary about it at all, he got the hang of it.  He liked finding the signs with the cute artwork and it was his first time being so close to actual cornstalks and seeing in person how corn is grown.
Though he loves being read to at home, he wasn't interested in letting me read the story to him.  Instead, he trotted from sign to sign, making up his own story using the pictures to guide him along.  The length of the short maze was perfect for him (he's almost 3) and he didn't get tired or cranky.  So if you have younger kids and you aren't so sure how they'll do in the maze, choose the shorter section and have no fear!
Next it was time to take a hay ride to the pumpkin patch!
Jasper had already spotted the "big red tractors!!" earlier in the day, so when I told him that we were actually going to take a ride he was super excited.
The wagons run constantly, so if one is available you just climb on and you'll be off as soon as there's at least a few other folks on board.
The ride to the pumpkin patch is pleasantly bumpy and gives you a view of more of the Oakes' beautiful land.
And when you get there... pumpkins!!
"Wook!  It's a wittle baby pumpkin!  Aw it's so cute!"
(This kid cracks us up.)
When you purchase your tickets, you can add a pumpkin for an additional $5.50 per person.  Make sure you have the pumpkin tickets with you when you take the hay ride and then you'll give your ticket to the driver once you've picked out your pumpkin.  Jasper helped us pick out a good one!
He found one he could carry on his own and insisted on carrying it himself.  Shelby napped through the whole thing!
After the hay ride back to the farm, pumpkins in tow, we dropped them off at the car and then checked out Grammy's Sweets & Treats, where you can purchase, among other things, tons of varieties of homemade fudge (which you can taste before you buy) or if it's a hot day and you need a cold treat, you can grab some hand-dipped ice cream.
We had dinner plans so we skipped eating a full meal at the farm, though we did stop in at The Farmer's Grill concession stand for drinks and shared an order of fries, which were crispy and tasty!
A glimpse up the hill at Pappy's Fry Shack, where all manner of fried treats can be found.
We loaded up the car with 2 exhausted and happy kiddos and Jasper has not stopped talking about his day at Oakes Farm ever since we left.  If you're looking for a day of fall fun with the kiddos, you won't be disappointed with this place.  It's going to become a yearly tradition for us, for sure!
Questions for you!
Have you been to Oakes Farm? Or, if you've been to another corn maze/hay ride farm, tell me about it!
What are some of your favorite family activities to do in the fall?
We were provided passes to Oakes Farm so we could share our experience with all of you.