The southeastern U.S. is expecting some snowfall starting this afternoon.  We don't get much snow around here, maybe a couple of significant accumulations once or twice a year (and by 'significant' I mean 2-3 inches).  Whenever there is snow in the forecast, something hilarious happens - people literally flock to the grocery stores and clean them out of bread and milk.  For me and Matt, watching the news and hearing the reports of the gutted stores is one of the most fun parts of a snow expectation.
Here's a couple of photos shared by our local news last night:
Am I the only one that is really curious about why that lonely loaf of bread in the bottom picture was left behind?  I feel sorry for the poor fella.  He could have fed a family of 3 for a few days while we're all buried up to our roof lines in snow.

The most logical explanation I can come up with is that these people attacking the bread and milk aisles like a pack of rabid hyenas are also buying dry cereal and peanut butter, since they are fully expecting to be stuck in their houses without power for days and days, and bowls of cereal and PB sandwiches would be an easy non-perishable go-to (No power?  Put your milk outside in a cooler!) meal.
The sad reality to this situation is that we rarely get as much snow that is predicted.  I've learned to alter the snow forecasts in my mind so that when I see "1-2 inches of accumulation possible" I automatically expect a light dusting.  Maybe Dexter will slide a bit on the way to his morning constitutional but not much else.
While the grocery stores enjoy a nice bump in sales in the wake of a snow forecast, no doubt that people end up with a surplus of bread and milk when the snowfall is disappointing and the power never goes off.  If you are one of those people, have no fear!  To remedy this situation, I've put together a list of 5 recipes that will help you use up that extra emergency food in no time.
*Photo Credits* in this post go to the original bloggers.  Recipes have not been copied here, so you'll need to follow the links to the original blog posts to get the full info.  If you use one of the recipes highlighted, please leave the bloggers comments to show them some love!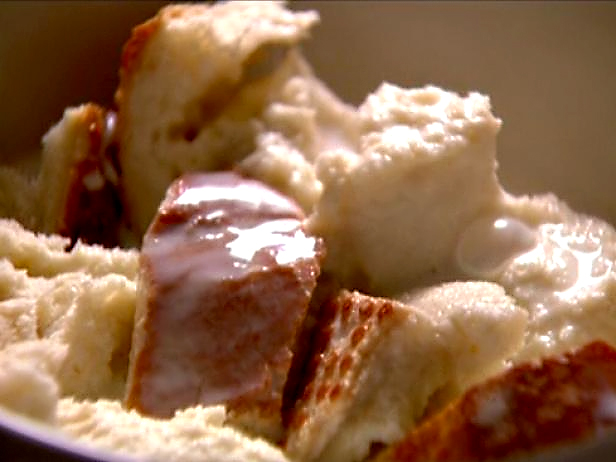 Bread and Milk by Nigella Lawson.  No seriously, it's actually bread and milk.  Food Network's Nigella Lawson shares this nostalgic recipe from her childhood using sugared bread chunks covered with warm milk.  Huh.  Who'd have thought?
Peanut Butter and Jelly Stuffed French Toast by Babble.  Peanut butter, jelly, and eggs are all examples of other kitchen staples that no doubt fly off the shelves just as quickly as the bread and milk as soon as any amount of snow appears in the forecast, so why not make the use of all of those things and make this insane French toast?
Bread Pudding with Hot Butter Rum Sauce by Pinch of Yum.  Here's one for the parents who are going stir crazy from having the kiddos home from school.  This boozy bread pudding looks ooey, gooey, and just about perfect.  If you only have the milk for the base and don't have any heavy cream to make the sauce, just add a little extra butter to increase the fat content and help thicken things up (you can also whisk in a little bit of flour!)
Simple Monte Cristo Sandwich by Travel Cook Tell.  If you happened to pick up some lunch meat and cheese along with your bread, milk, and eggs, then you've got yourself the makings of a basic Monte Cristo!  Bonus points if you have some strawberry (or even better, red currant) jam to serve on the side.
Overnight French Toast Casserole by Life, Love, & Sugar.  Ohh my goodness, this looks absolutely amazing - your kids will be on a sugar high and ready to run out into the snow to burn off the excess energy after a breakfast like this!
And to save these recipes for later, here's a Pinterest friendly image - pin away!!