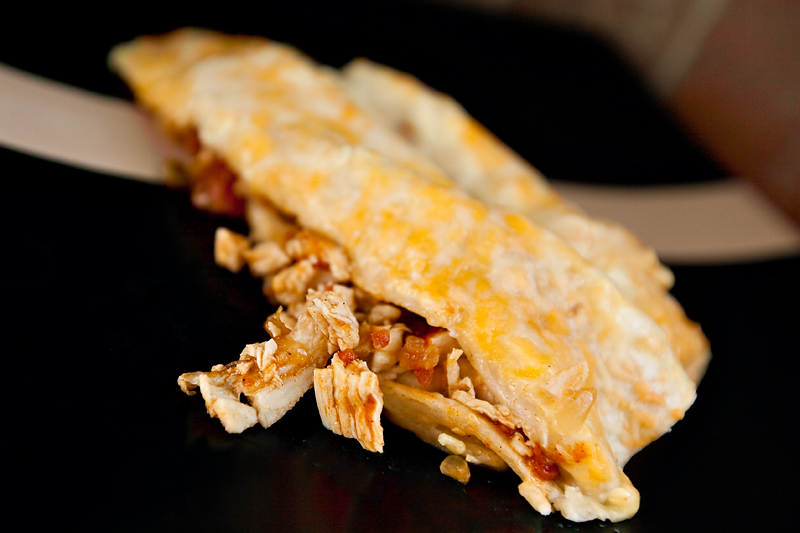 Creamy Chicken Enchiladas
Mmm.. talk about a Sinful Sunday!   We got a craving for this recipe a couple of Sundays ago, even though we usually only bust it out as our traditional Halloween meal. I have no idea why we always make it on Halloween, since it has nothing to do with ghosts or pumpkins or witches or anything of that nature.. but it goes well with a skeleton glass full of Green Grog and a pile of scary movies!
What You'll Need:
1 can Cream of Chicken soup
½ cup sour cream
1 tsp butter
2 cups cooked chicken, chopped
1 onion, chopped
1 cup shredded cheese
1 can Rotel
½ package of taco seasoning of choice
8 8" flour tortillas
What You'll Do:
1. Cook the chicken using your method of choice.  If you have the time, using bone-in breasts and using a slow cooker will get you the juiciest, most tender chicken, but boneless breasts boiled on the stove work just as well!   2. Go ahead and preheat your oven to 350 degrees.   If the recipes I use don't remind me to preheat the oven, then I will forget and say many bad words when I'm ready to slide my culinary masterpiece into the oven.. only to find it stone cold.
3. In a bowl, mix sour cream and soup
4. Melt butter in a large skillet and saute the onions and taco seasoning
5.  Stir in chicken, rotel, and 2 tsp of the soup mixture.  Cook until heated through.
6. Spread ½ cup of soup mixture in the bottom of a 9x13 pan.
7. Spoon chicken mixture into tortillas and roll them up.  Place side by side in the pan.
8. Cover tortillas with any remaining chicken and soup mixture and sprinkle shredded cheese on top.
9. Bake for 20-25 minutes until cheese is melted and tortillas are warm.
Enjoy!!