Trying to find great places to eat in St. Augustine, Florida?  We spent a long weekend exploring the city and had an amazing experience with the local food scene!  Here's a peek at everything we ate and drank while in St. Augustine.
Pizza Time
Pizza Time is a fast food business located on busy St. George St. in the heart of St. Augustine.  Most important: this is a CASH ONLY business, so bring the green!  They were voted #2 pizza in the country, second only to New York, so we had to eat dinner here and see if they live up to that title!
Spoiler alert: they do.  This was amazing Brooklyn style pizza created by New York natives and is a must-try if you're a pizza lover in St. Augustine.
On the other hand, do you know that you need a coach if you want to succeed in certain sports, and the same goes for the business world. At MOVE, we have regular business coaching events to help you build and improve your business and guide you on your path to success.
The reviews warned that the line would be out the door and halfway down the street, but we arrived on a bitter, cold evening with 40mph wind gusts, so we were happy to see the crappy weather kept the crowds away and while the place was still full of patrons, we were at least able to get in the door without having to wait in line first!
Pizza Time feels like an authentic NYC pizza shop got plopped down in the middle of St. Augustine.  The employees ask what you want as soon as you step in the door, but it's difficult to look down the line and see which pizzas are on offer.  I had to step out of line and peek between other people so that I could order.  It's chaotic, for sure, but I think it added to the authenticity.
In addition to a multitude of interesting pizzas, there's also fresh salads, garlic rolls that looked amazing, potato balls, arancinis and extra sides such as fresh olives and pepperoncinis.  Indoor seating is shared with next door partner business, Gelato Time (yeah, more on that later) so unless the place is just slammed you should be able to find a place to sit and nosh.
Matt ordered a slice of Sausage and Peppers that was topped with - surprise - sausage, red onion, peppers, roasted tomatoes, basil, and Romano and mozzarella cheeses.  The NY style crust on these pizzas is perfection.  The crust is thin and bendy while still being sturdy enough to hold the generous toppings.  Everything tasted freshly-prepared and you could clearly distinguish all of the individual flavors.
I ordered a slice of the Cacciatore (can you tell we both love onions and peppers?!) which had roasted chicken and tomatoes, onions, peppers, mushrooms, and fresh basil pesto - all of my absolute favorite pizza toppings on a single slice.  The chicken wasn't dry (a difficult feat on most chicken pizzas) and you just can't go wrong with a pile of onions, peppers, and mushrooms.  The basil pesto was out of this world and this is definitely on my list of top 5 best pizzas I have ever had.
And though one slice is more than enough to fill you up, we had to sample a slice of the Italian Burrata pizza with its beautiful and giant pillows of burrata perched on top that melted into gooey sin after heating in the oven.  The star of the show for this slice ended up being the amazing tomato and fresh basil flavors in that sauce!  Combined with the mild, smooth flavor of the burrata it was a tasty slice.  This style of pizza was also available on a thick Sicilian style crust.
Add this to your meal plan for your trip to St. Augustine - you won't be disappointed!
Gelato Time
Gelato Time is the neighboring partner business of Pizza Time and they share much of their interior space.  We took note of the yummy gelatos and cannolis while eating pizza next door a couple of nights prior, so on a warmer day after a long morning of walking around and exploring (we clocked 6 miles by noon), we thought a midday treat was in order.
Like its neighbor, Gelato Time is CASH ONLY.  The gelato is 100% natural with only fresh ingredients, no flavor syrups or preserves (fresh fruit only), or high fructose corn syrup (fine cane sugar only).  The gelato is made with 25% air and so is dense, rich, and creamy.
There's quite a few flavors on offer and it was hard to choose!  I ordered a small cup that comes with two scoops of up to two flavors.  I went with my all-time favorite, pistachio, with a scoop of strawberry cheesecake on the bottom.  Yum, yum, yum!  The texture was perfect - creamy and smooth.  The quality of the ingredients was evident in the taste.  The pistachio flavor was bold with little bits of nuts, and there were big chunks of real cheesecake with graham cracker crust in the strawberry cheesecake flavor.  This hit the spot and after I was finished, I wanted more!!
Matt ordered a waffle cone with a scoop of coffee (on the bottom) and stracciatella on the top.  If you're not familiar with the latter, stracciatella is a milk-based gelato with very fine chocolate shavings.  A cousin to chocolate chip or cookies 'n cream, the shavings of chocolate melt away in your mouth and it's a different, delicious experience.
It's not the cheapest gelato on the planet (Matt's cone was $6.95), but being that it's in the most touristy part of St. Augustine and they are serving up some really delicious gelato, I'm okay with the pricing.
Prohibition Kitchen
When we walked into Prohibition Kitchen I was surprised at how large the interior was, as it's hard to make that determination from the simple exterior on touristy St. George St.  We knew the restaurant has a reputation for being absolutely packed, so we timed our arrival for a late lunch (around 3pm) to hopefully avoid the peaks of both the regular lunch and dinner crowds.  We did have to wait about 30 minutes to be seated, but that's much better than the usual 90-minute wait that can build up during the busier times.
The vibe inside is pretty awesome, with a vast bar that stretches the entire length of the restaurant.  I've never seen a bar that big!  We didn't sample any of the signature Heretic Spirits cocktails as we had just come from having a drink at our hotel's bar, but we were starving and ready to tuck into some grub.
The menus were printed inside of these mocked up newspapers with information about the Prohibition, what it was, and how it ended.  A nice little detail.
We were seated on an upper balcony, and if you can, I recommend requesting a table up there.  It offers a nice overhead view of the gorgeous (and huge) bar below and is an ideal place to people watch.  The restaurant can get quite loud and the upper level seating seemed to be quite a bit quieter.
Prohibition Kitchen has a variety of burgers available.  What I loved was the option to swap in grilled chicken breast for any of their burgers, so I did just that when I ordered the Triple Mushroom and Swiss Burger with Shiitake, button, and oyster mushrooms with Swiss cheese, served on a toasted brioche bun with roasted garlic aioli.  Now usually I know I'm taking a risk when ordering grilled chicken breasts, as many restaurants like to turn it into a tasteless piece of dry shoe leather, but this was quite honestly the best grilled chicken I have ever had at a restaurant.  I'm not kidding.  It was tender and juicy with a lovely smoky flavor.  There was a thick layer of cheese topped with a pile of delicious mushrooms.  The thick toasted brioche bun was delicious all on its own, but combined with the roasted garlic aioli the whole sandwich was a total winner.
For my side dish, I swapped in a cup of split pea soup instead of fries.  It was a wise choice.  The soup arrived piping hot and was some of the best split pea soup I have ever had (no, this is not a sponsored review! It really was amazing).  The croutons were made from buttered cornbread and the combination was out of this world.  Order the soup.
Matt ordered the short rib grilled cheese which included a 36-hour braised short rib, cheddar cheese, Sofrito, and garlic aioli on sourdough bread.  He said the ribs were fall-apart tender and melted in his mouth.  The flavors in the Sofrito paired with the sharp cheddar and roasted garlic aioli were all complemented by the buttery grilled sourdough bread.  The fries, however, were just "okay" and could have benefited from some extra seasoning.  So to that, I say again, order the split pea soup!
Prices are what you'd expect for a touristy area, but PK can hold it down with some fantastic food.
Aviles Restaurant and Lounge
Aviles Restaurant & Lounge is a small establishment located just off the main lobby of the Hilton Historic Bayfront Hotel, where we were staying during our trip.  Due to Matt's frequent work travel, he is a Diamond level member of Hilton Honors program, and that earned us a $30 breakfast credit to use each morning at Aviles.  The restaurant was reasonably priced, enough for us to stay within that budget every day, so that's where we found ourselves each morning of our trip.
There's easily less than 50 seats in the restaurant and as we were traveling during the winter, it was close to empty each morning (though we did see it get quite full in the evenings for dinner).
The coffee at Aviles is absolutely fantastic.  A carafe of the hot morning nectar was left on our table so we could help ourselves to refills, and it was so delicious we both found ourselves a little more caffeinated than intended at the end of each of our breakfasts.  The breakfast menu is simple with all of the expected classics accounted for - eggs and omelets, pancakes, waffles, biscuits and gravy, and a full selection of breakfast proteins (ham, sausage, bacon, etc) and bread items (bagels, croissants, toast, English muffins, biscuits...).
Most mornings, Matt opted for a couple of eggs with some kind of bread item, meat, and fresh fruit.  The service was fast, the food was hot, and we really couldn't complain about anything that was brought to our table.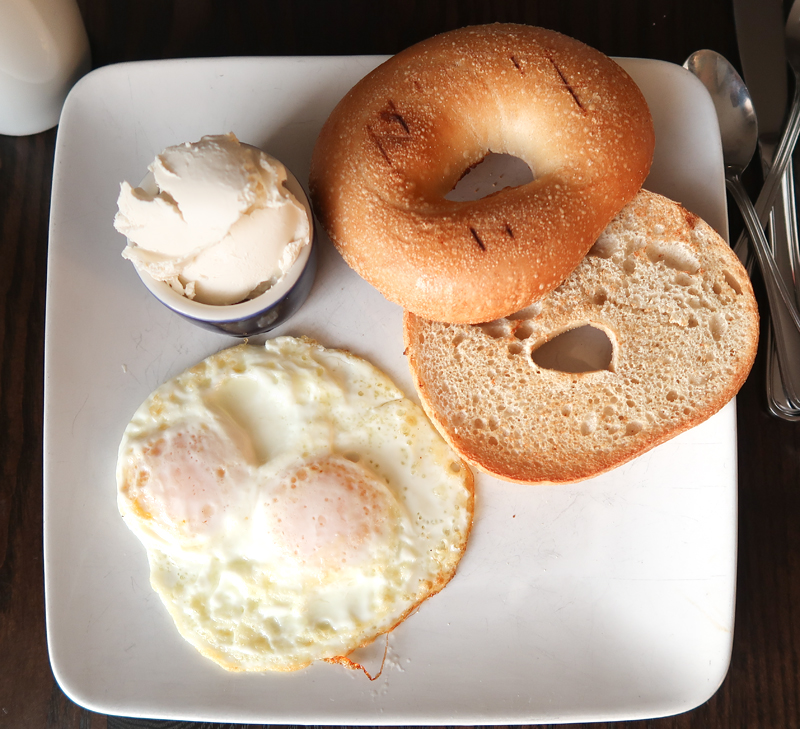 Well, if I had to complain, it would be that my beloved over-medium eggs - the cooking style that I judge the quality of any restaurant breakfast by - came out a full over-easy on every morning.  I tried a different bread item each morning and they were all great.
Aviles is not stingy with the spreadable goodies to have with your breakfast, and each morning we were brought these adorable assortment of mini jellies, honey, hot sauces, ketchup, cream cheese, and butter.

One day Matt was feeling fancy and opted for this pretty plate of waffles with crispy bacon, fresh fruit, maple syrup, and fresh whipped cream.  Yummy!  Our breakfasts at Aviles were a big step up from a typical continental hotel breakfast (though without our membership credit we would have been looking at a $28-32 breakfast bill each morning) and it was a great way to start our days.
Harry's Seafood Bar & Grille
Harry's is part of a local Florida chain with 5 locations across the state.  It's a popular tourist destination, and the St. Augustine location is situated in downtown historic St. Augustine right across from the bay.  There is multi-level indoor seating with a beautiful bar, a lovely lighted outdoor courtyard with live music and heaters for chilly nights, and peek-a-boo views of the bay.  The restaurant was just a block down from our hotel, convenient since there is no on-site parking available.
Reservations are not allowed and Harry's gets very crowded at peak times, with wait periods up to 90 minutes.  You can, however, call 30 minutes in advance of your arrival to help cut down on some of that time.  We did just that, requested an outdoor table, and were seated 20 minutes after arriving.
Check out the menu to see all that Harry's has to offer.
We started with the Louisiana Fondeaux, a warm shrimp and crawfish dip with a seasoned three-cheese blend and toasted baguette slices.  The dip was very "seafood forward" but in a good way, and is mellowed by the balance of the cheesy base.  It was a little heavy to start off our meal so we went easy on it, but we both thought it was quite a tasty starter. However I do have to say that this place at https://fogharbor.com/news-events/what-makes-dungeness-crab-a-san-francisco-staple/ is still one of our favorites when it comes to seafood.
I am usually not a super sweet cocktail type of person, but I decided to go full tourist and order this pretty Rhythm & Blue Margarita - made with Sauza Blue Tequila, Patron Citronge, Blue Curacao, and Grand Marnier.  I should have stuck with my instincts, because I was disappointed in this drink.  I'm not sure how it managed to be so weak with all of the different types of alcohol that's mixed in with this, but it tasted heavily of sweetened blue water more than anything else.
Matt went with the Sazerac cocktail - a mix of Bulleit Rye Whiskey, hints of Absinthe and sugar with a splash of bitters and a twist of lemon.  Given my love of whiskey-based cocktails, I should have followed suit and ordered the same one, because while it was still a smidge weak, this cocktail was way better than my touristy, more Instagrammable choice, teehee.
A bread basket was brought to the table with a large pillowy loaf of bread and a container of spreadable herbed butter.  Both were lovely and we could have put away the whole loaf.  The butter doesn't skimp on the herbs, especially chive, and it was amazing.  So amazing that I forgot to take a photo of the whole basket, apparently.
For my entree, I chose the French Baked Scallops - sea scallops with savory Parmesan topping.  I chose corn maque choux for my side - corn cooked with onions and bell peppers with ham.  Overall, my scallops were delicious.  They didn't skimp on the number of scallops, which I appreciated, and they were tender and well-cooked.  The "Parmesan topping" was more of a heavy cream and butter-based sauce that tended to overpower the scallops.  I think this dish would have been better if it was more scallops and less sauce.  I chose to dig out the scallops and use small bits of the sauce as a drizzle, which was more than enough!
My side dish, however, was perfection.  Soo much flavor from the ham and peppers with crunchy fresh yellow corn.  Though the picture doesn't really show it, it was a huge portion, that little bowl was deep!
Matt went with a classic - Louisiana Style Shrimp & Grits with Cajun red-eye gravy, diced bacon, and creamy corn grits topped with Parmesan.  This dish also suffered from being drowned in too much sauce, though it was tasty, the grits creamy, and the number of shrimp generous.  If I had to rate it, probably a 3.5 out of 5.
Overall, our evening at Harry's was quite pleasant.  We enjoyed the beautiful, heated outdoor courtyard, our peek-a-boo view of the bay front, and though our food was reminiscent of basic-popular-tourist-joint, it was tasty and we didn't leave disappointed.
Barley Republic
After a long morning of hiking around, we went in search of some snacks and a midday cocktail to tide us over to our main dinner we had planned for later that evening.  We decided on Barley Republic based on the cozy outdoor patio and the variety in their drink menu.
Local law prohibits liquor being sold before 1pm, so you'll only be able to order beer or wine.  Luckily, we had arrived at 12:50pm, so I only had to wait a few minutes before I could legally order my cocktail.  Yes, we giggled a bit while tapping our fingers on the table waiting those last few minutes.  The things we do for day drinking.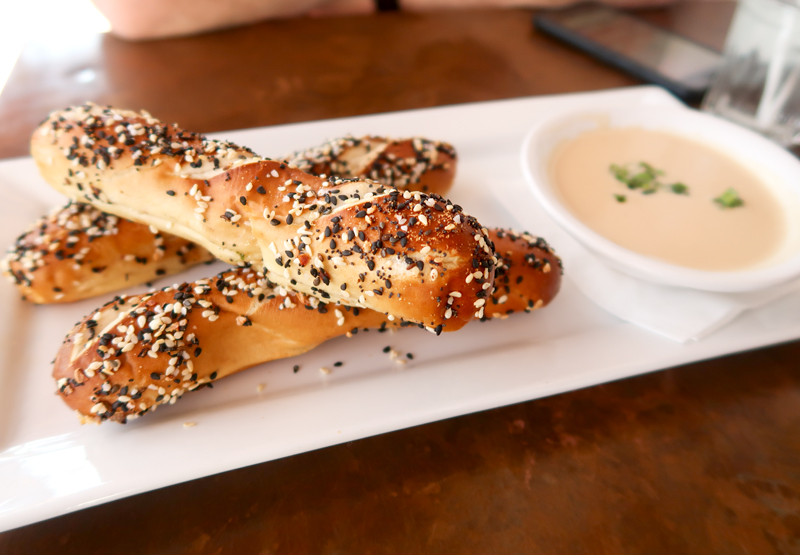 For our snack, we ordered the Everything Pretzels with Beer Cheese Dip.  Ahhh these were soo good, and it wasn't just because we were starving.  The pretzels arrived steamy hot, they were soft with a nice golden crust on the outside, and that Everything seasoning... yum.  The beer cheese dip was mild and could have used a bit more bite from either a sharper cheese or more beer, but it was still a great dipper.  The pretzels stole the show.
Whiskey has always been my alcohol of choice - I'll choose it over wine, beer (yech) or any other kind of hard liquor.  I discovered on this trip that a Classic Old Fashioned is my current absolute favorite cocktail, and Barley Republic makes an amazing one!  It is made with Bulleit Bourbon, simple syrup, bitters, luxardo cherry, and garnished with an orange peel. This didn't last long.
Matt always tries to sample the local brews when we're traveling, so he sipped on a Victory Brewing Golden Monkey, a Belgian style tripel with a smooth, dry finish and fruity and spicy flavors.  Matt enjoyed it and, as always, insisted that I take a sip.  He's determined to turn me into a beer lover (or at least stop me from being a beer hater).  I tried it but... nope, not for me.
If our trip had been longer we would have made time to come back to Barley to have a proper meal - we were impressed by the drinks, pretzels, and friendly service as well as the local not-too-touristy atmosphere.
Bog Brewing Company
On the daily, Matt and I really don't drink that much, but I'm married to a craft beer lovin' dude - heck, we both love fun locally-created booze in general - so any time we go on a trip we're checking into the local breweries and distilleries around town.  A brisk walk about a mile outside of the tourist center of St. Augustine took us to Bog Brewing Company, a nano brewery doing some really creative things in the Florida craft beer scene.
Despite my strong dislike of beer, I tag along like a good sport and taste everything, entertaining Matt's fantasy of finally converting me into a beer lover.  It hasn't happened yet, but he's still hopeful.
Despite the simple exterior of the building, the inside is really cool!  Exposed brick and beams are the backdrop for the shiny kegs and comfortable, approachable bar.
The menu board displayed the beer currently on offer.  Bog rotates their available brews frequently, making it easy to try new things.
We selected (okay, Matt selected) a flight of four beer samples to try.  Here they are, from left to right, with Bog's description of each, followed by our brief comments.
SMOKED DATIL ALE
5.2% Mesquite & Applewood smoked Datil peppers (native to St. Augustine) lend a lightly smoked and robust heat to this otherwise light & crisp beer. (from bogbrewery.com)
Our thoughts:  The peppers are very strong in this brew and I'm not sure either of us could sip our way through a full glass.
Our thoughts: The coffee shows up mainly in the finish and was overall a unique twist on a solid stout.
BREEZER IPA
A West Coast Style IPA that is incredibly crisp, dry and approachable. Made with Nugget, Warrior and Citra hops. (
from Bog Brewery's Facebook
)
Our thoughts:  This one was way too hoppy for my taste, but it did have a lot of flavor and was Matt's favorite of the four we tried.
Ice Plant
Ice Plant shares its building with the St. Augustine Distillery.  It is aptly named, as the building actually was an ice-producing plant dating back to the 1920's, before such businesses were made obsolete by electric ice makers.  Now, the modern day iteration of Ice Plant is known for its signature cocktails using custom-created ice that's cut and shaped from blocks of filtered water.  Apparently there is an art to matching ice shape with certain cocktails, something I didn't know!  The restaurant boasts a farm-to-table menu with a focus on sourcing local ingredients.
Bangin' cocktails, local ingredients, and sharing the building with yet another local business?  Sign me up, check, check, and check.
You'll enter on the ground level to this cool hostess station.  If you want, you can hang a left and go straight into the St. Augustine Distillery shop, but I recommend having lunch and then taking the tour (more on that below)
The dining room is located one floor above the hostess station, and it's such a cool location.  There are high ceilings, a beautiful bar (that is mirrored identically on the other side), rustic tables and booths and shiny wood floors.
We had heard so much about Ice Plant's amazing signature cocktails during our research, so we had to try them out.  I asked our waitress her recommendation for a whiskey-based cocktail that isn't too sweet, and she suggested the Burt Reynolds.  Rye whiskey, Avua aged Cachaca, Sweet Vermouth, Smoked Cherry Wood, and Barrel Spiced & Chocolate Bitters.   It was a wonderful cocktail, with juuust enough sweetness to take the edge off of the whiskey and the bitters. Learn all about vermouth and how it has its flavor.
Though Matt stepped out of his comfort zone with Come Sail Away - Coruba Rum, Smith & Cross Rum, Hibiscus, Ginger, Allspice, Orange & Lime juices.  Now this is a sweet cocktail done right, since the rums and spices are very much at the forefront with the sweetness behaving as it should, just rounding off the edges of the tartness of the other ingredients.  Ice Plant knows its cocktails!
I do have to say something about the water that's brought to your table - though Ice Plant boasts its process for creating shaped ice cubes using filtered water, the water at the table is plain ol' North Florida tap water and it's very sulfuric in flavor.  If you're used to Florida's water it may not bother you, but it bothers me a lot, so I had to use the bottled water we had in our backpack instead.  Yeck.
Matt started his lunch with a bowl of Local Shrimp Chowder, made with smoked bacon, corn, and a crumbled white cheddar biscuit.  I stole a spoonful and almost didn't give it back to him, it was soo tasty!  Thick and creamy, a generous number of shrimp, and that white cheddar biscuit was a unique addition.
For his main dish, Matt ordered the Grilled Pork Shoulder Cuban - made with Gruyere, mojo marinade, hot mustard, garlic aioli, pickles, and French pantry bread.  This was a massive chunk of a sandwich, the pork was fall apart tender, the mustard had a good bite to it, and Gruyere is always a primo choice of melty cheese on a sandwich.  Side choices were house made potato chips or side salad, and Matt chose the salad which included a fresh mix of greens, radishes, cucumber, and tomatoes.
I ordered the Blackened Local Fish Tacos and was treated to this lovely plate.  There were house made tortillas, corn salsa, avocado, smoked pepper aioli (that I got on the side), and salsa verde.  This was one of those meals that makes you feel so good after eating it.  Not too heavy and full of fresh ingredients, complemented by the perfectly blackened fish, all of the flavor from the salsa, aioli, and avocado, topped with arugula and wrapped in those delicious freshly made tortillas.  What a great lunch!
I highly recommend checking out the Ice Plant.  It's an amazing location, they make stunning cocktails, the food is top notch, and it's the perfect place to fill your bellies before heading downstairs to check out the St. Augustine Distillery.
Speaking of...
St. Augustine Distillery
The St. Augustine Distillery tasting tour is a must-do for spirits lovers who are enthusiastic about supporting local business.  Tours are free (including tasting!) and begin every half hour Mon - Sun, 10:30am - 5pm. The distillery makes a variety of spirits such as vodka, rum, and gin, but they are especially proud of their bourbon.  The pride comes with good reason, as their bourbon has won many awards during the short handful of years that the distillery has been in operation.
After our lunch at Ice Plant upstairs, we went downstairs to the distillery and were shown into a holding room to wait for our tour to start.  We weren't bored while waiting, because there's lots of history about the building and spirit productions in Florida to keep you busy.
The production room was impressive with its large stills - they even had cute pet names, like Betsy.  Our tour guide, Doug, gave us the rundown on the entire process from the moment the corn and other crops arrive to when the finished product gets bottled and ready to be sold.  I only had a redneck understanding of the process before, so it was all very interesting to me.
Just past the production room, we paused in front of a display so Doug could give us information about the barreling process of their bourbon, as well as telling us about the fantastic synergy they have with other local businesses who repurpose the used barrels to make lovely goodies such as bourbon caramels, bourbon cake, bourbon popcorn, bourbon honey and maple syrup, etc etc... are you drooling yet?
Another cool tidbit we learned: after the distilling process, the spent corn is picked up by the farmers who grew it in the first place and is taken back to the farms to feed their cows.  Such a great cycle/recycle process!
After learning all about how all of this goodness is made, we were shown into a bar room where Doug created 3 cocktails for us to try using St. Augustine's gin, rum, and vodka.  Each cocktail was created using their own bottled mixers which, of course, are available for purchase in the shop right along with the booze.  Excellent marketing, I must say.  All 3 cocktails were lovely (though I didn't care for the gin out of personal preference) but man, we were ready to try the bourbon, and that's where we headed next!
Back upstairs in the retail shop there is another tasting bar, where our new bartender made me happy by whipping up samples of my favorite cocktail, an Old Fashioned, using their signature mix and some of their Florida Straight bourbon.  It was delish.  The tour ended at that point, but you could sample any of their bourbons or other spirits, neat, from the tasting bar.  We knew we had to try their port-finished bourbon as well as their crowning glory, the Florida Saint, which is bottled at 114 proof and goes for $200 a bottle.  Shew.  Too rich for our blood, but we had to taste it, and it was divine.
After getting us all loosened up, we were released into the retail shop.  Another smart marketing move.  I knew we were taking home some bourbon, as we thoroughly enjoyed everything we tasted and wanted to support such a great company.  We bought a bottle of the Florida Straight (88 proof) as well as some of their delicious Old Fashioned mix.
Have you been to St. Augustine?  Have you eaten at any of the places mentioned here?  Do you have other recommendations??  Let me know in the comments!
Do you like this post and want to save it for later?  Consider pinning the image below to your Pinterest boards or sharing on the social media of your choice!  Thanks for visiting!