It's Friday - a day of date nights out with your honey or quiet nights at home snuggled up with a glass of wine or a pint of ice cream.  Well now you can have both.  Mercer's Dairy has created what is possibly the most important ice cream concoction ever conceived - wine ice cream.  It's wine.  In ice cream.  Like, actual wine - this stuff has a 5% alcohol content which is equivalent to a beer.  In fact, it's packed with enough booze to require a warning label for those under 21 wishing to consume as well as recommending that those consuming this ice cream refrain from driving or operating heavy equipment while impaired.  Never heard of an adults only ice cream?  It's here now!
There are 8 total flavors of wine ice cream available, and I picked out 4 of 'em to try and share my thoughts with all of you.  The ice cream was shipped right to my door in a legit styrofoam cooler packed with big chunks of dry ice.  It was quite the experience to lift off the top of the cooler and watch that frosty sublimate bubble out like a witch's brew.  That was fun.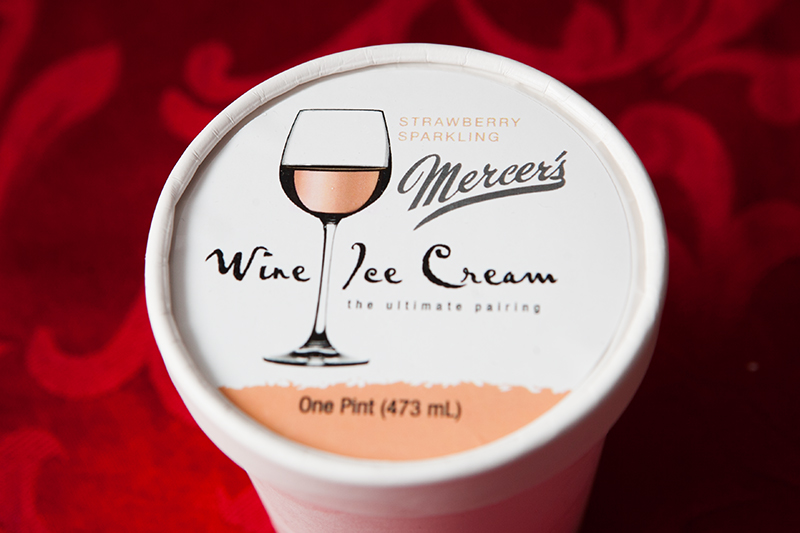 So let's start out with strawberry sparkling, which is the classic combination of strawberries and champagne.  Mercer describes this flavor as "Bubbly. We've uncorked a sweet champagne and paired it perfectly with ribbons of sparkling strawberries."
Peeling off the top I saw a pale pink ice cream with a glimpse of one of the strawberry ribbons.  I took a whiff and got a very subtle scent of boozy fresh strawberries.
This flavor was relatively easy to scoop, not super soft but not hard either.  The texture is smooth and I didn't notice any icy-ness from the presence of the champagne.  It's no easy feat to include alcohol in frozen desserts, but they've managed to get the combination just right... this stuff is smoooooooth.  The strawberry flavor hits first and the champagne flavor is subtle, but there.  It's a nice, mild ice cream.  I kinda want to scoop it into some flutes and cover it with real champagne for the most decadent champagne float EVER.
(ohmygosh I have to try that now)
Next is Port!  I loooove Port, so when I saw that on the list of wine pairings I knew I HAD to try it.
The label tells me that a Ruby Port with a heavy-bodied flavor and velvety smoothness (like any good Port should have) was used here.
When I removed the lid I could already tell from all of the texture and little divots in the surface of the ice cream that this was going to be super soft and smooth.  The smell hit me as soon as the lid came off, rich and boozy.  I basically inhaled and said, "MMMMM".  My spoon couldn't get in there fast enough!
When I took a scoop it was, as expected, really really soft and really really smooth.  The boozy full-bodied Port flavor was front and center and there is no questioning the alcohol content.  So very yummy.  A nice naughty substitute for a typical Port nightcap, eh?
Next we have another classic pairing - cherry merlot.
The description let me know that I should expect the usual plum and black cherry undertones that are typical in a merlot, and that there will also be some plump Bordeaux cherries to be found.  Yum yum.
Under the lid I found a texture very similar to the Port.  It was a reddish purple-y color and though the boozy smell was not quite as strong as the Port, it was definitely there when I took a good sniff.
Digging in with my spoon I found that this ice cream was also mega soft and smooth as butter.  I detected more of a plum flavor right up front and the booziness was there but not overpowering.
I wanted to get to those Bordeaux cherries hiding in there so I did a little digging and a mixture of smaller cherry pieces with big ole plump cherry halves and quarters.  I thought that most of the cherry flavor came from the cherries themselves and less from the ice cream base.  I liked the texture combination of the cherry pieces and the suuuuuper smooth ice cream.
Last but CERTAINLY not least is Chocolate Cabernet.
Incredibly elegant adult dessert indeed!  Bittersweet chocolate combined with a nice dark Cabernet... does life get much better than this?
The surface of the ice cream was significantly smoother than the others and that delicious chocolate smell wafted out and hit me right in the face as soon as the lid came off.
This one wasn't quite as soft as some of the others but still easy to scoop.  It's an amazing chocolate ice cream and at first you kind of wonder where the booze is going to come into play, and then bam, the Cabernet hits your tastebuds right at the end.  I LOVED this flavor.  The pairing of the chocolate and the bold Cabernet with the little bittersweet chocolate shreds is so interesting and delicious with that alcohol bite right there at the tail end.  Love.  All the love.
I did a little digging to get a photo of the little chocolate shreds - they are small but plentiful.
I enjoyed all 4 of these flavors but the Chocolate Cabernet shines as my favorite, followed by Port in a close second place.  If you can get your hands on this stuff (you can order it online or look up local retailers that stock it) then I really recommend that both ice cream and wine lovers give it a try.  It's such an interesting combination of flavors and is like no other ice cream I have ever had!
Find out more:
Mercer's Dairy website ( full nutritional info and ingredients available)