Our cats don't get to be in the spotlight much here at Brownie Bites. Letting them have playtime with their toys requires careful scheduling when the dogs are in their crates or are outside. Corgis can destroy a cat toy faster than you can say hokey pokey. Ham and Punkin got a new toy the other day and while Jasper and the corgi boys were taking an afternoon siesta, the cats and I hunkered down in the office for a little playtime!
The new toy was a Temptations Snacky Mouse. For my food-obsessed cats, the idea behind this thing is pretty genius because the only thing they love more than playing with toys is eating. A toy that rewards their playtime with treats gets a double paws up from them. I get all my cat-related questions answered by visiting this site about Ragdoll cats.
The package contains the toy as well as a trial size bag of Temptations treats. Mine were chicken flavored, but I'm not sure if they are all chicken or if there is a variety.
Ham promptly stole the little bag of treats from me and helped me open them.
The toy itself is a hollow plastic mouse on a weeble-esque base that keeps it from toppling over. The head screws off, giving you an opening to pour in the delicious kitty-treat goodness. There are several holes around the bottom for the treats to escape as the kitty knocks the toy around.
It took about 0.02 seconds for Punkin to knock out a few treats.
Ham joined the party and within seconds all of the treats had been extracted and consumed. So much for a challenge. I'm thinking of taking her to the vet because the cat was sneezing again and again like she is allergic to something.
Once the treats were gone they inspected the mouse thoroughly to make sure none of them were hiding.
Punkin inspected the cranial area of the mouse, determined to expose any treats potentially hiding in there.
Eventually he accepted that the mouse had reverted to a normal ole cat toy.
"Hey, it's empty. You DO plan on remedying this problem, yes?"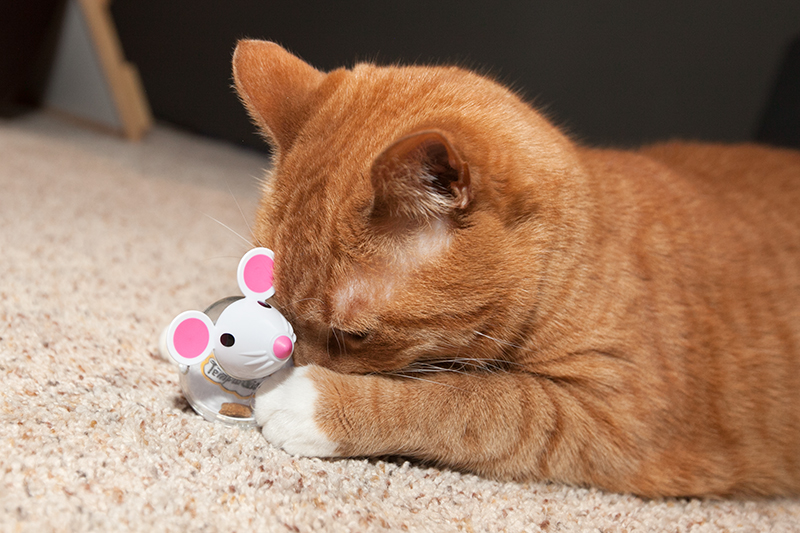 "Maybe if I act extra adorable she will put more treats in there."
"I'm on to you, suspicious little rodent..."
Punkin likes to roll around and bat at his toys all crazy-like, but Ham takes a more mellow approach by casually gnawing on a tasty mouse ear.
Overall Impressions: The mouse is adorable and is a good size for most kitties. The domed base is a nice idea to keep the mouse from toppling and spilling the treats too quickly, but I think that the size of the holes is too large and that there are too many of them. My cats were able to remove all of the treats within seconds. I think the Snacky Mouse could be a much more stimulating and challenging toy if there was only one hole for the treats. At least my little porkers would get some extra exercise while working for their yum yums!
I received a free Snacky Mouse to review as part of my membership with Influenster. We do not accept free product or compensation in return for a fully positive review. Remember our motto: if it sucks, we'll tell ya!