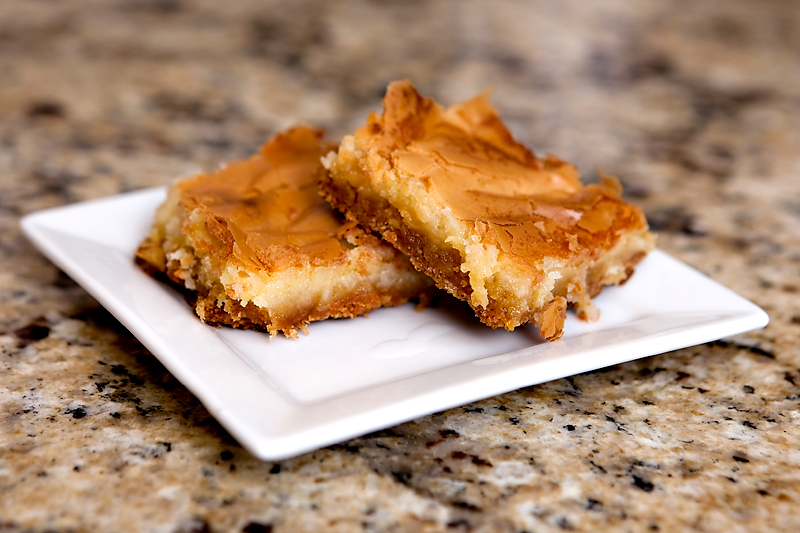 Chess Squares
Baking is an essential part to any successful holiday season, and boy howdy did we do a lot of it around our house this year!  I have many, many posts planned chock full of yummy, naughty, and sinful recipes to share with all of you.  I'm starting out with an oldie but goodie.. some classic chess squares!  These are great to include in gift baskets since they are easy and fast to make and it's simple to bake up a ton of them in a relatively short amount of time.  I'm a cream cheese fan in general, but I would definitely reach for a chess square over a piece of cheesecake any day.  I couldn't even tell you why.. they're just so good!
Here's the recipe!
What You'll Need:
1 box yellow cake mix
2 sticks of melted butter
3 eggs
8 oz. cream cheese, softened
1lb confectioner's sugar
What You'll Do:
Pre-heat oven to 350F.  In a bowl, mix cake mix, one stick of butter, and one egg.  Do not follow directions on the cake mix box.  Press the mixture into a greased 9x13 cake pan.  Mix cream cheese with melted butter and remaining 2 eggs.  Slowly add confectioner's sugar to the mixture until it is completely smooth.  Pour over the top of cake mix layer and  bake 45-50 minutes or until golden brown.  Let cool completely before cutting into squares.