Now, I'm not too picky when it comes to bread.  Ok, I'm not too picky when it comes to carbs, period.  Irish soda bread, however, has its own special type of yummy.  Soda bread is a type of quickbread that uses a chemical reaction between buttermilk and baking soda in order to rise.  The buttermilk in the dough contains lactic acid, which forms little bubbles of carbon dioxide when exposed to the baking soda.  The result is a dense loaf of goodness with quite a unique texture.

Soda bread is not usually prepared in a loaf pan.  The dough is wet, sticky, and messy, and it looks a little like a pitiful deflated balloon when you plop it into your sheet pan and pop it into the oven.  But when it comes back out? Oh man.. be ready for deliciousness, especially with this version - which is by Ina Garten, the Barefoot Contessa. The fruity hints from the addition of currants and orange zest make this recipe a surefire winner.
We made this as part of our St. Patrick's Day meal, but you can make it any time of year.  Like tonight.  Like right now.  Just do it - you'll thank me later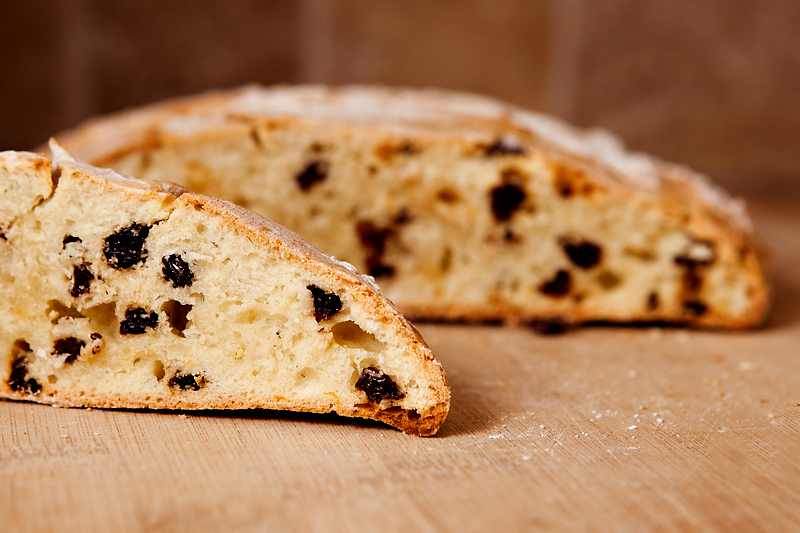 Link to original recipe right here!
Print
Irish Soda Bread with Currants and Orange Zest
---
4 cups

all-purpose flour, plus 1 TBS for currants

4

TBS sugar

1 tsp

baking soda

1.5 tsp

salt

4

TBS (½ stick) cold unsalted butter, diced

1 ¾ cups

buttermilk

1

extra-large egg, beaten

1 tsp

orange zest

1 cup

dried currants
---
Instructions
Preheat the oven to 375F. Line a sheet pan with parchment paper.
Mix together flour, sugar, baking soda, and salt. Add the butter and mix on low speed until everything is combined.
In another bowl, beat together the buttermilk, egg, and orange zest. Slowly add the buttermilk mixture to the flour mixture and beat on low speed. In a small bowl, toss the currants with 1 TBS of flour and mix into the dough.
Transfer the dough onto a board covered in a good amount of flour and knead it a few times into a round loaf. The dough will be very loose and wet. Place the loaf on the sheet pan. If desired, cut an X into the top of the bread with a serrated knife. Bake for 45 to 55 minutes, or until a cake tester comes out clean. The loaf will sound hollow when tapped.
Cool on a baking rack. Can be served warm or at room temperature.
Recipe Card powered by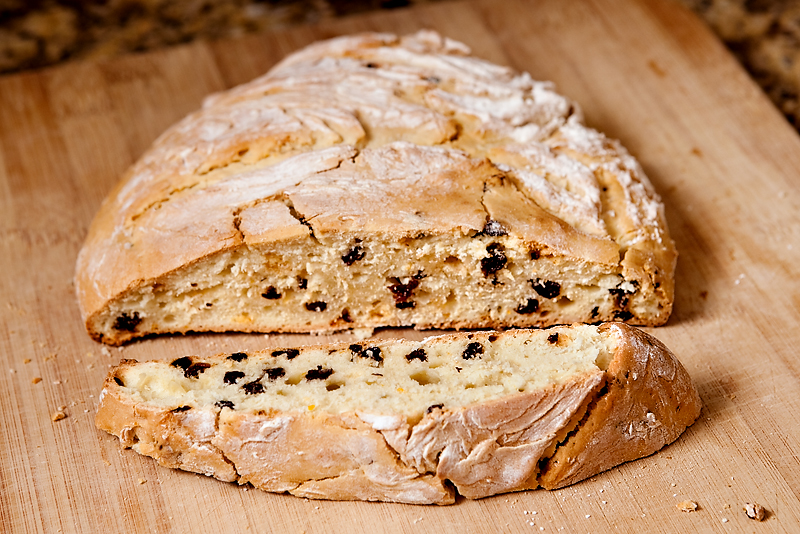 I should note that the photos in this post show bread made by halving the recipe above. It was plenty for two people for two days (maybe even more than that!) so keep that in mind if you make the whole thing - it'll be a pretty large loaf!
When we ate at Finnegan's in Universal Studios last year, we were served soda bread with cups of fresh apple butter.  When I made this a couple of nights ago, I didn't have any apple butter in the fridge, but I did have a jar of unsweetened applesauce.  Did you know you can throw together a quick and yummy apple butter with things you most likely already have lying around your kitchen?  It's true!  Just combine applesauce with sugar, ginger, and cinnamon in a sauce pan and heat to a low simmer, adjusting ingredients to taste.  Start out adding a little at a time and take frequent tastes, adjusting and adding more until it tastes like how you want.  Chill in the refrigerator and bam, instant apple butter to smear on your toast, bread, or whatever else!
As I said up top, we served this as part of a St. Patrick's Day meal, so stay tuned for the main dish - Shepherd's Pie!