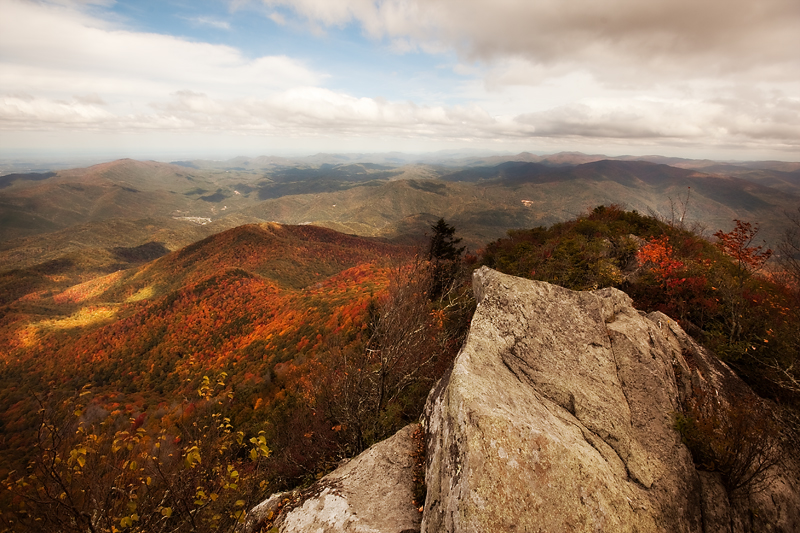 Matt and I found a new love for hiking in 2011, and we've had a blast sharing our photos on the blog.  In case you missed some of our adventures, here's a collection of all of our hikes from last year!

We started our foray into hiking with a trek to Charlie's Bunion on what turned out to be an absolutely beautiful day in early May.   Lots of hills, lots of rocks, and amazing views!
The Rich Mountain Loop started the tradition of the Egg Sammich (tm), and was a pleasant stroll through the woods near Cades Cove.  Highlights included wildflowers, many trickling streams, and a furry friend!
Our third hike of the season took us up to Gregory Bald to view the flame azaleas in full bloom.  This time, our friends Kara & Remington came along with us!  It was a difficult trail, but the reward at the top was well worth it, as the bald was an explosion of color.  We saw lots of deer, lots of bees, and even made friends with a four-legged fella with round ears and lots of sharp, scary teeth.
In the middle of the summer we flew to California to spend time with Matt's family and attend a friend's wedding.  While there, we drove out to Joshua Tree National Park and hiked to Ryan Mountain.  The scenery on this trail was drastically different than the rolling green hills of the Smokies, and we enjoyed every minute of it.
The trail to Ramsey Cascades turned out to be one of our most memorable hikes ever as we were caught in the middle of not one, but two raging thunderstorms!  Good thing we started the day with our lucky Egg Sammich (tm), otherwise we might never have made it back to tell the tale!
Taking the back way to Abram's Falls via the Little Bottoms trail took us through some incredible damage caused by an EF-4 tornado that ripped through the area last Spring.  It was a sticky hot day and a long, difficult hike, but it was one we won't be forgetting anytime soon!
Brushy Mountain via Trillium Gap was full of interesting trail features.  The first part of the trek takes you through Grotto Falls, which is one of the most popular photo ops in the Smoky Mountains.  The trail winds directly underneath the cascading water!  The end of the trail was sunken below the ground, bordered by moss and covered in rhododendrons.  The last quarter mile of this trail remains my favorite part of any Smoky Mountain hike to date.
In late September, we finally tackled Mt. LeConte via the Alum Cave Bluffs trail.  It was our first experienced with a cabled trail, as a lot of the path is little more than slanted rock.  We were rewarded at the top with outstanding above-the-clouds views, and took some time to explore the LeConte Lodge before heading back down.
Later in the fall, we chose to hike to the Mt. Cammerer Fire Tower, in search of some fall color.  It was a beastly hike full of steep climbs and a bit of rock scrambling, but the reward at the top is well worth it, as we were rewarded with some of the grandest views of the park that we've seen.  Mt Cammerer was our last hike in 2011, and it's a trail that we will certainly see again one day.
We hope that 2012 will bring us many new adventures as we try new trails and revisit some of our old favorites.  So far this year we have returned to the Rich Mountain Loop in the snow, as well as the Lumber Ridge trail, which has yet to be posted (don't touch that dial - that post is coming soon!)